A Canada that cares: What UNICEF and Canada can do to protect more children affected by the Syrian Crisis
By Carleen McGuinty, Deputy Director, International Policy and Programs
People often ask me, "Isn't it depressing working on issues like the Syrian crisis every day?" and I always tell them "No!" Because I know, and take great comfort in the fact, that I am not just a by-stander, but am taking action every day in my work at UNICEF Canada to make a difference in the lives of boys and girls who have now lived with five long and brutal years of conflict.
At UNICEF Canada it's all hands on deck to respond to the Syrian crisis. While I have colleagues who are working hard to raise awareness and funds from individual Canadians and corporate partners, my work is to encourage the Government of Canada to do all it can do to support the Syrian children and families affected by what is now the largest humanitarian crisis in living memory.
Our government has an encouraging track record of responding to these needs. For example in 2015, Canada ranked 6 out of the top 10 government donors to UNICEF's response to the Syrian crisis, and I am encouraging this new government to revitalize these efforts and use its diplomatic as well as its financial powers to do all it can to protect and support the children caught in Syria and those who have fled to neighbouring countries.
How UNICEF Canada can work with the Government of Canada to reach the hardest to reach in the midst of the Syrian crisis
Last month, the Government of Canada committed $1.11 billion (over three years) to address the increasing humanitarian needs of those affected by the ongoing crises and conflict in Syria and Iraq, as well as support for longer-term development programming. We hope some of these funds will be used to support our work to avoid a lost generation - the "No Lost Generation Initiative" – which Canada has been strongly supporting. UN agencies and NGO partners of the "No Lost Generation Initiative" have appealed for $1.4 billion to support around four million children and youth inside Syria and in neighbouring countries to access education opportunities. Providing the 2.8 million out-of-school children with learning is one of the most significant challenges of this conflict. It's also one of the most important. Schools provide a safe space for children to just be children – and by ensuring continued access to education, it also allows them to get the skills and knowledge they need to help rebuild their country, when the time comes.
There are other things Canada can also do in response to the Syrian crisis. Canada can use its diplomatic channels and voice to make sure all parties to this complex conflict are protecting children.
The situation for children is alarming and no place is safe in Syria – from homes, schools, parks, playgrounds, hospitals and places of worship. For example, more than 6,000 schools can no longer be used as they have been destroyed in the conflict or are being used for non-educational purposes. UNICEF has also seen an increase in the recruitment of children into armed forces by all parties to the conflict, with children being recruited at a much younger age – as young as seven – and being used in more active and dangerous roles. More than two million children are trapped without aid in besieged and in hard-to-reach areas in Syria. (Read more in UNICEF's No place for children: The impact of five years of war on Syria's children and their childhoods report.)
We are asking the Government of Canada to systematically, and at every opportunity, raise its voice to call on all parties of the Syrian conflict to respect International Humanitarian and Human Rights Law - in particular, for the protection of children and ensuring humanitarian support can reach people in need.
Specifically, we are asking that Canada call on all parties to immediately end all attacks on education and health facilities, and prevent the killing and maiming, abduction, torture, detention and recruitment of children. We also ask that Canada raise its voice to call on parties to the conflict to enable immediate, unhindered, and sustained access to hard-to-reach and besieged areas.
With the new cessation of hostilities agreement taking place in Syria and the efforts already made by the Government of Canada, I am feeling optimistic. I will continue to work as hard I can to ensure the Government of Canada does all in its power to protect and support the 8.4 million Syrian children caught in Syria or who have fled to neighbouring countries.
The children of Syria have never lost hope – and neither will I.
Learn more about UNICEF's vital work for children affected by the Syrian crisis here. Your support can save lives.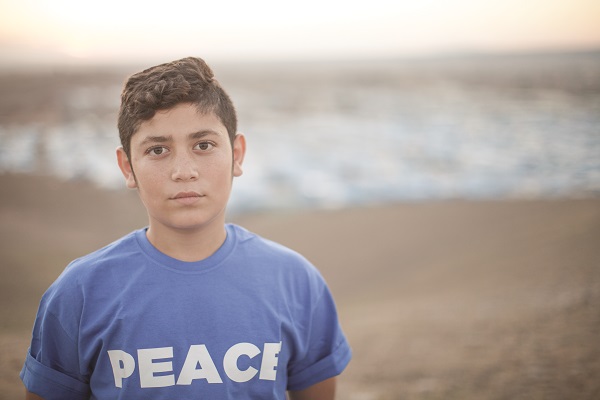 Categories:
Geographic Regions: