A Mother's Story - Viet Nam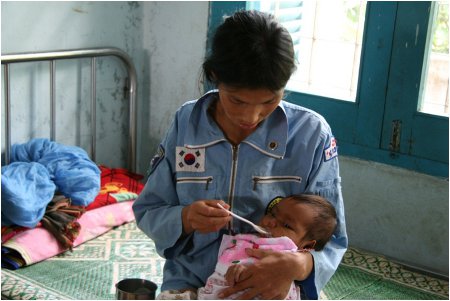 Here is Y Giap's story, told in her own words:
"My name is Y Giap, I'm 25 years old. I live in Dak Ma Commune, in Viet Nam's Central Highland's Region. My family is very poor and we have to work hard to make ends meet. Even when I was pregnant, I rarely had any chance to rest.
"My son, Giang Hi, was only 2.2kg when he was born. I tried to breastfeed him but I don't think I had enough milk. Soon, I started feeding him with rice water and sometimes condensed milk because I couldn't afford anything else. But two weeks ago, my son had a high fever and breathing difficulties so I brought him to our commune's health centre.
"His situation was so serious that they immediately sent him to the district hospital. He was diagnosed with severe acute malnutrition. He is six months old and only weights 4kg. Giang Hi had to stay in the hospital for two weeks, following a special treatment which helped him to begin recovering from acute malnutrition. He was given therapeutic milk to treat severe malnutrition, and now, he's showing good progress in his recovery. My boy has gained nearly 1kg and I feel relieved.
"In a few days, he will be discharged from the hospital and we will continue the treatment from home. The doctor counseled me about breastfeeding and complementary feeding to nourish my baby boy properly. I hope my son will fully recover! As for me, I will follow the doctor's advice and feed him right so he doesn't suffer from malnutrition again."
Giang Hi is one of 700,000 children suffering from acute malnutrition in Viet Nam. Children with acute malnutrition have lowered resistance to infection and are also more likely to die from other common childhood ailments.
Management of acute malnutrition is one of UNICEF's primary child survival priorities. UNICEF is working with Viet Nam's Ministry of Health in developing an adapted response, including the careful use of locally produced therapeutic foods, to ensure Giang Hi and other children with severe acute malnutrition can be treated in their local health facilities and communities. Rich in proteins and vitamins, therapeutic milk is used to manage malnutrition at the initial stages until the child is stabilized.
On Mother's Day (Sunday, May 13) honour a mother with a gift she'll love – a gift that will make a difference to a mother like Y Giap and a child like Giang Hi. A $25 donation provides six litres of therapeutic milk.
Survival Gifts
Your gift provides 6 litres of milk - a necessity at emergency feeding centres.
Geographic Regions: