A partnership to save lives, eliminate tetanus and change the world
Over the past two weeks, I have been watching with alarm the life-or-death struggle being waged by a 6-year old boy battling tetanus. This drama is unfolding not "over there" in the developing world but "over here" in London, Ontario. The young boy's parents chose not to have him immunized believing that he would be protected by "herd immunity" - the phenomenon that occurs when a significant percentage of the population is immune and an infectious agent cannot get a toehold in the community.
However, there is no such thing as "herd immunity" in the case of tetanus. Tetanus spores are ubiquitous and have a toehold everywhere. Fortunately, it appears that the boy will survive his brush with death and hopefully, his parents will ensure his immunizations are current and never again play Russian roulette with his life.
This unfortunate incident underscores the fact that education on tetanus is needed "over here" as much as it is needed "over there." The Kiwanis-UNICEF partnership to eliminate maternal-neonatal tetanus (MNT) is working to not only vaccinate women and their future children, but also educate the public about this devastating disease.
Together, we are prevailing over this cruel and swift killer. Four years ago, at the outset, MNT was endemic in 40 countries in the developing world. That number has been whittled down to 23.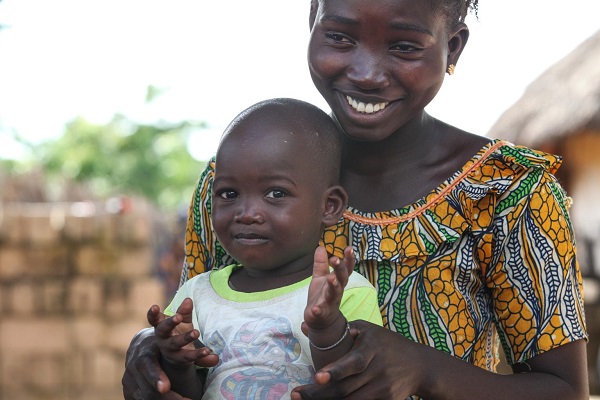 New mother Ami received a tetanus vaccination are now she and her son Cheikh have protection from the disease.
In February of this year, Prime Minister Harper announced that his government would join the partnership pledging $2.5 million in matching funds to the campaign. Matching funds raised by Canadians and Kiwanians, the resulting $5 million will protect over 3 million women-at-risk and their future babies. In his announcement, the Prime Minister praised the efforts of UNICEF Canada and Canadian Kiwanians.
The contribution of the Government of Canada is the largest donation by any government to the Eliminate Project. Canadian Kiwanians are the envy of Kiwanians around the world as Canada clearly demonstrates its commitment to maternal, neonatal and child health. This generous contribution has been shared with 640,000 Kiwanians around the globe.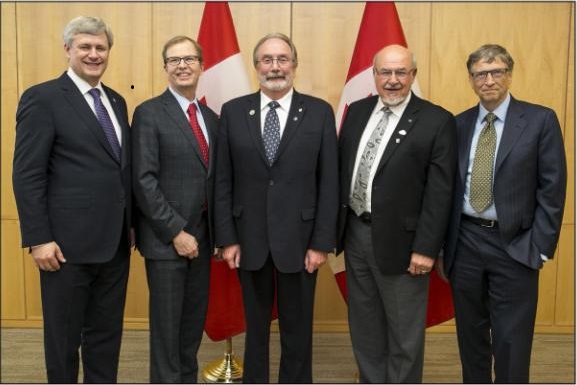 Prime Minister of Canada Stephen Harper, UNICEF Canada President and CEO David Morley, Kiwanis International President Dr. John Button, Kiwanis Foundation of Canada leader Chuck McIlravey and Co-Chair of the Bill & Melinda Gates Foundation Bill Gates meet to discuss the Eliminate project and maternal, newborn and child health. (Photo credit: pm.gc.ca)
Kiwanis International is 100 years old and the organization will be holding its centennial convention and celebration in Indianapolis from June 25-28. The Government of Canada-Kiwanis-UNICEF Canada partnership will be recognized as a partnership that works.
This partnership can only be strengthened by the support of Canadians. Everyone can play a role to protect mothers and children, eliminate this deadly disease and ultimately change the world.
I hope you will join us.
___________________________________________________________________________
Dr John Button is the President of Kiwanis International, and lives in Ontario where he recently retired from medical practice.
Categories: