A plea to the mothers of Canada
By Sharon Avery
Chief of Development, UNICEF Canada
What would you do if your 14 year old daughter texted you from the other side of the world with this message: "Mummy, we're home alone and the roof just blew off the house. Help us!"…and then heard nothing - nothing now for 3 days.
Like so many families in this city, we have a nanny from the Philippines. She is this incredible woman - loving, fun, entirely responsible, working hard to bring her family to this country. I travel a lot and she makes it possible for my family to have security and continuity when I'm away. I think she's the bravest woman I know. She's sacrificed her time with her own three children to care for my own.
As soon as the Typhoon hit I reached out to her. What a blessing that her family was not affected. But her housemate received this text on Saturday morning at 6am – and has heard nothing from her daughter since. All three of her daughters (aged 16, 14 and 9) were home together alone during the storm. Her husband works for the electrical company and he was out helping his community prepare for one of the worst storms in history. But the storm came so quickly, with so much unexpected flooding.
I keep asking myself, what would I do?
I would go crazy – that's what I'd do. Utterly helpless, how would I reconcile my inability to do anything to find them, let alone help them?
And all because she was brave enough to try to build a different future for her daughters. All because she's here - like so many, caring for OUR children.
I'm speaking as a mother when I say we must care for their children because we can't imagine their anguish and because we owe this incredibly brave group of women who have sacrificed their children for our children.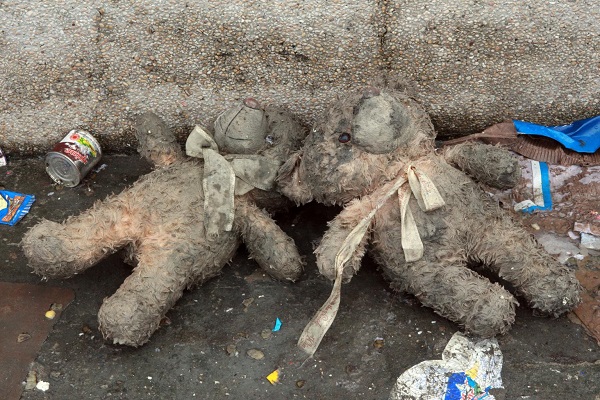 POST SCRIPT - November 15, 2013:
Each day I checked in with Imelda, our nanny, hoping to hear good news; dreading that I would hear the news I'm sure so many have. Each day, the answer was "no news." As a mother, my heart clenched each time. On the fourth day I checked in again.
This is the text I received that brought tears to my eyes:
"Thank you Sharon and the good news is Rita received a txt from her brother-in-law that all her kids were all safe. Her brother-in-law rescued her kids in the middle of the typhoon. We really cried for Rita - she is so happy! Rita said she is the happiest mommy now!"
Not all the stories from the Philippines will end happily.
But today I am so very happy for one mother.
Rita's children will need help to ensure they are cared for and safe. And UNICEF and partners will be there. Please support our relief efforts today.
Categories:
Geographic Regions: