A rewarding career, an award, and a journey I will cherish always
On Saturday, August 10, I had the honour of receiving an award presented by the North American Council on Adoptable Children in recognition of my advocacy efforts to achieve permanency for children in the child welfare system.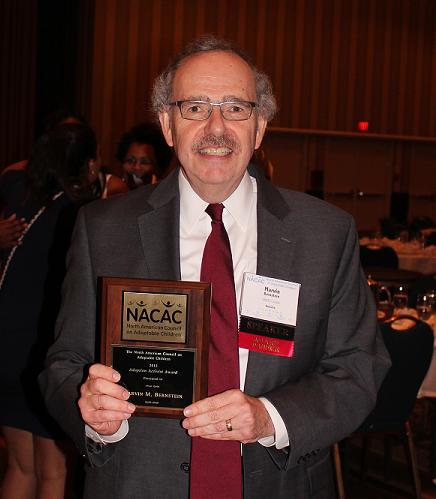 The occasion of receiving this award got me thinking about a few things. The first being, what have been the common elements that have driven me through my professional career? Well, I have always had a strong sense of social justice and believe that we can all be agents of social change if we are optimistic, principled and are prepared to speak out where we see unfairness or discrimination of any kind, particularly where it affects our most vulnerable and marginalized citizens. While there has never been a career blueprint, every position I have held seems, in retrospect, to have been a stepping stone to the next, and motivated by a continuous desire to make a tangible and positive difference in the lives of children and youth.
The second question that came to mind is, were there key individuals who encouraged and supported me throughout my career? The answer to this is a resounding yes. In addition to important colleagues and mentors who have inspired and challenged me throughout my career journey, my family members have always been a source of unselfish support. When I received the fateful call in 2005 offering me the position of Saskatchewan's Children's Advocate, my wife, Helen, immediately exclaimed that I had to follow my dream and accept the position even though she had never set foot in that province herself and even though it meant leaving our adult children behind. (In my situation, it was the parents – and not the children - running away from home.) My son, Daniel, said that he and his sister, Laura, were grown up and living on their own, and that the children of Saskatchewan needed me more than he and his sister did at this point in their lives. My daughter, Laura, also encouraged me to accept the position even though it meant I would not be around to participate in the exciting events leading up to her then recently announced wedding.
The last question is what were the circumstances surrounding this particular award that made it special? Unlike other ceremonial and award recognitions I have received over my career in different venues, what made this occasion special was the fact that this was a North American acknowledgement occurring in my home city of Toronto, with all my adult family members in attendance for the very first time. As you can see from the photo below, I was blessed to have at the same table with me (from left to right in the front row) my son's partner, Eun-Kyung, my daughter, Laura, and my wife, Helen, and (from left to right in the second row) my son, Daniel, my son-in-law, Brandon, my friend and strongest mentor, Mary McConville, Executive Director of the Catholic Children's Aid Society of Toronto, and my friend and colleague, Pat Convery, Executive Director of the Adoption Council of Ontario, who nominated me for this prestigious award.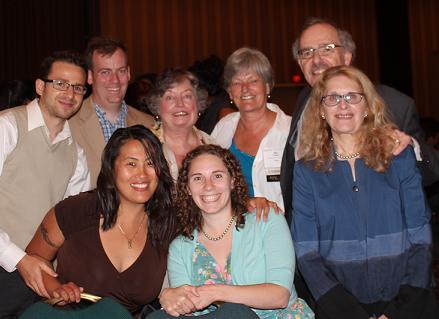 It is my hope that I can continue to contribute to the strong domestic policy influence and impressive humanitarian and child rights legacy of UNICEF Canada in my current role as Chief Policy Advisor.
Note from David Morley, UNICEF Canada President and CEO:
"This award honors special individuals who have devoted their time to improving child welfare and it is definitely well-earned. I am proud to call Marv Bernstein my colleague and friend, and proud to see his lifelong commitment to championing the rights of every child in Canada get the recognition it deserves."
Categories:
Geographic Regions: