Agents of Change
"To unleash the power of young people, we need to partner with them." -Secretary-General Ban Ki-moon
In the spirit of this year's International Youth Day theme, "building a better world, partnering with youth," young people in Viet Nam are working hard to inspire social change!
"Children and young people are the most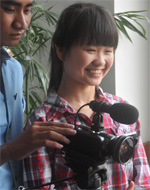 vulnerable to climate change," says 15-year-old Vo Giang Ha. "But they are also agents of change and can become part of the solution," he added.
He is one of seven young people aged 13-17 who participated in a workshop supported by UNICEF, in partnership with Viet Nam's Youth Union – one of the country's largest mass organizations – in the coastal province of Quang Bing.
During the workshop, the youths planned, scripted and filmed a six-minute video about a fishing community where homes and a school were washed away by several devastating storms. The film, Sea Change, centres upon climate change-induced challenges, and how children can be part of the solution.
Sea Change: filmed by seven young reporters in Viet Nam documenting the effects of climate change.
Viet Nam ranks 13th out of 170 countries deemed susceptible to the effects of climate change, categorized as at 'extreme risk.'
"Young people are the next generation," says 15-year-old Hoang Mai Trinh. "They are exposed to new concepts and trends, they can definitely come up with new ideas to cope with issues of their times. They should be listened to as much as adults when it comes to climate change."
Youth in Viet Nam, it seems, refuse to be ignored.
According to UNICEF Representative in Viet Nam, Lotta Sylwander, "Viet Nam's children and young people have knowledge on global issues threatening our planet. They are ready to bring about social change. Since almost one in three people in Viet Nam are children younger than 18, this is a population group to be reckoned with."
While filming, the young people interacted with communities directly impacted by climate change-induced natural disasters. They interviewed fishermen, construction workers, officials from the province's Committee for Disaster and Storm Control, and young people participating in a reforestation project.
"We don't think the government is listening enough to young people. They should do more of it. We hope, through the video, our voices will be heard by our leaders. We also hope this film will contribute to raising awareness of climate change in Viet Nam and let everyone know they can take action to reduce the impact it will have on our lives," said Hoang Mai Trinh.
Adapted from text by Sandra Bisin.
Connect
Find Voices of Youth and follow them on Twitter @voicesofyouth
Categories:
Geographic Regions: