Angola Celebrates One Year Polio-Free!
In the town of Uige, north-eastern Angola, 26-year-old Ricardo Monteiro makes his way to work in a wheelchair. Ricardo has polio, which he contracted as a child, and is unable to walk.
Rejected by his family because of his disability, Ricardo set out for Uige and found work with a metal-working business. "It took me a while to find someone who would give me a job," He says.
But Ricardo's story will soon be one of the past. Angola is celebrating one year free of polio – a major milestone for a country that initially defeated polio in 2001, but has suffered repeated relapses since 2005.
Uige province in particular has gained substantial ground against the disease. Porous national borders meant the spread of polio could go undetected as people moved in and out of the country. Authorities working with UNICEF, however, have now placed check-points along these borders to ensure those crossing are vaccinated.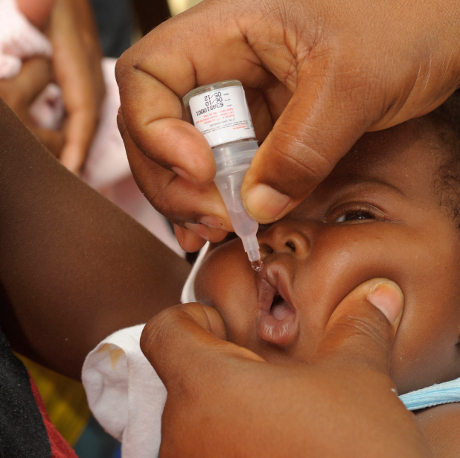 © UNICEF/NYHQ2011-0135/Williams
A baby receives a dose of oral polio vaccine at a health centre on the outskirts of Luanda, the capital.
Moreover, extensive polio campaigns in the past year have brought the number of unvaccinated children in the province down from 10 percent to just 3 percent.
Lucrecia Pedro Miguel, Provincial Immunization Supervisor in Uige province, credits this success to "an improvement in the behaviour of people from polio campaigns, involvement of the community and routine immunization."
By strengthening the quality of vaccination campaigns, expanding and improving routine vaccination services and applying better border control, Angola is on the road to eradicating polio for good.
Other Posts Like This
Success Story: India takes a giant leap towards wiping out polio
Categories:
Geographic Regions: