Armed Conflict in Northern Mali Drives Thousands from their Homes
As conflict rages in northern Mali, nearly 400,000 people have fled their homes to escape the violence.
Alia was one of the lucky ones to make it across the border to Mauritania. Many remain stranded.
But a week after Alia and her three young children set out from their home in Timbuktu, the telltale contractions and cramps in Alia's swollen belly gave way to early labour. As the first Mauritanian dwellings emerged from the desert mirages, Alia gave birth to her fourth child.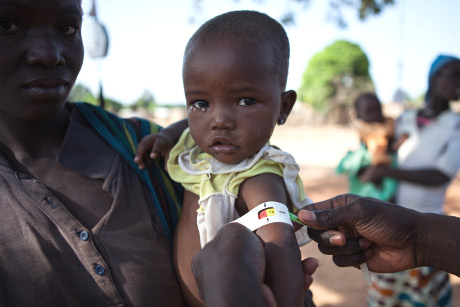 A doctor in Mali measures the arm of 2-year-old Massira for signs of malnutririon during the Sahel nutrition crisis of 2012. © UNICEF/MLIA2012-00637/Bindra
In early 2012, just as the Sahel region of West Africa was grappling with a severe nutrition crisis, rebellion erupted in northern Mali. By March, rebels had captured the country's entire northern territory. The situation remained relatively calm, however, until late last year when Islamist groups seized control.
As thousands of people stream out of the North, UNICEF, in coordination with UNHCR and other partners, is working around the clock to meet the growing humanitarian needs of refugees, the majority of whom are children and women.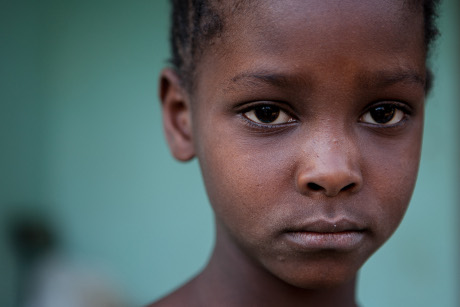 6-year-old Wana Haidera and her family were forced to flee their home in Gao and are now displaced. © UNICEF/NYHQ2012-1804/Bindra
Their grueling journey behind them, Alia and her young family received medical screenings and measles vaccinations at a UNICEF healthcare centre in Mauritania. Then they were shuttled to M'Berra camp, where Alia's newborn son Habibi was successfully treated for severe acute malnutrition.
Thanks to dedicated donors like you, UNICEF is providing refugee families with food security and clean drinking water, as well as sanitation and hygiene services. Children are benefitting from education and child-friendly spaces, which can help to restore a sense of normalcy to their lives after the hardships they've endured.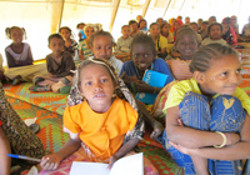 "Every time I go there, I am deeply moved by the incredible resilience of these families to cope with adversities. Children playing football with sand and a couple of stones as goal posts. Girls returning to their tents after school, carrying, with immense joy, their books and pencils," says UNICEF representative in Mauritania, Lucia Elmi.
But the situation in Mali remains volatile. It could be some time before refugees can safely return home. In the meantime, growing numbers of Malian refugee children are in desperate need of food, safe water, protection, healthcare and education.
Simmering ethnic and political tensions, combined with thinning humanitarian resources mean the fate of Mali`s children hangs in the balance.
Commit to their survival. Please consider donating today.
Adapted from original text by Lucia Elmi and Brahim Ould Isselmou.
Categories:
Geographic Regions: