Breastfeeding is More than Beneficial – It Saves Lives.
August 1st to 7th every year marks World Breastfeeding Week.
Why do we need a week each year to reflect on the importance of breastfeeding? The answers may surprise you.
Medical experts agree that exclusive breastfeeding is the most healthy way to feed an infant from birth to 6 months of age, and that continued breastfeeding is beneficial to both the child and the mother even after a baby has started to consume solid food.
It's also the most affordable.
But for numerous reasons, the 20th century gave rise to the pressure to formula-feed infants, and breastfeeding rates declined sharply in many countries.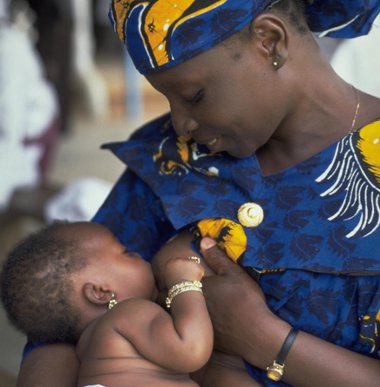 © UNICEF/NYHQ1997-1149/Pirozzi
While breastfeeding rates are no longer declining at the global level — many countries experienced significant increases in the last decade — still only 38 per cent of children less than six months of age in the developing world are exclusively breastfed and just 39 per cent of 12-23 month olds benefit from the practice of continued breastfeeding.
In countries where child survival is a daily struggle, breastfeeding can mean the difference between life and death.
Of all possible preventative measures, breastfeeding infants under two years of age has the single greatest potential impact on child survival, with the potential to prevent 1.4 million deaths in children under five in the developing world. The results of a study conducted in Ghana show that breastfeeding babies within the first hour of birth can prevent 22 per cent of neonatal deaths.
Though the global rate of breastfeeding is no longer declining, rates vary dramatically from country to country and region to region, and the news is not all good.
This spring UNICEF sounded the alarm bells with respect to the decline in breastfeeding rates in East Asia and the Pacific. In Thailand, as little as 5 per cent of all mothers breastfeed, while the rate is less than 20 per cent in Vietnam. In China, only 28 per cent of babies are breastfed.
To help stem this drop in breastfeeding rates in East Asia, UNICEF is calling on baby food companies to adhere to the International Code of Marketing of Breastmilk Substitutes and welcomes the efforts of several countries in East Asia to adopt the Code of Marketing and enforce it through national legislation. UNICEF is also working closely with businesses in the region to ensure that women can enjoy the right to adequate maternity leave and nursing breaks.
You can help raise awareness about the importance of breastfeeding by sharing this blog post on Facebook, Twitter or via email.
Learn More
Breastfeeding: the best start to life
More Like This
Parent Corner: One Mother's Reflections on the World of Breastfeeding
Categories: