Bring Them Home: Reuniting Families in Uzbekistan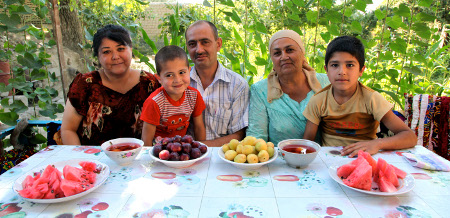 © UNICEF Uzbekistan/2011
In the city of Samarkand, Avaz Rakhimov and his two young sons sit around a table in their garden, sipping tea. Beside him sits his new wife.
But the picture is incomplete.
Avaz Rakhimov's family was ripped apart when he and his former wife separated. During the separation, his ex-wife received custody of their four children. When she travelled abroad for work, the children's grandmother took over their care.
But once their mother was out of the country, the Uzbek social services system intervened. It removed the children from their grandmother's custody and placed them in a state institution.
"My plan is to get my daughters back," said Mr. Rahimov. "This is their home and I don't want them to be raised anywhere else."
The ready institutionalization of children in Uzbekistan is a practice inherited from the Soviet era, yet it has been proven to be detrimental to children's development. Institutionalization deprives children of the individual attention, stimulus and emotional security provided by a family environment.
Having established a home with his new wife, Mr. Rakhimov successfully applied to have his sons Nazirbek and Nodirbek, aged six and seven, returned to him.
Yet his two daughters remain in state custody.
Mr. Rakhimov is determined to do everything in his power to bringing them home. For instance, he has begun remodeling his home to make it more child-friendly, and is constructing a new bedroom for the girls in preparation for their return. "I'm doing everything I can for them." He says. "Everything is for them."
His efforts will soon be rewarded. This family's case is one of many success stories for Family and Child Support Services, a UNICEF-sponsored program in Uzbekistan.
Galina Kukanyants, a UNICEF-trained social service worker working with Mr. Rakhimov, is pleased with the progress so far. She is confident the girls will be able to come home within a few months.
The program is part of a fundamental change supported by UNICEF that is sweeping systems of child protection in Uzbekistan—focused on keeping children out of state institutions. With UNICEF's active partnership, a national social work system and new child protection legislation are certainly within reach.
UNICEF works tirelessly to reunite families, no matter what the circumstances. Because every child has the right to grow up surrounded by a loving family.
UNICEF correspondent Rob McBride reports on a UNICEF-supported child protection program helping to reunite families in Uzbekistan.
Categories:
Geographic Regions: