Camaro West on Volunteerism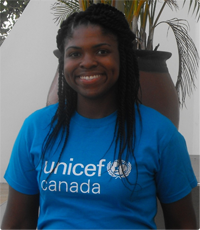 I feel like I've been a volunteer in one way or another for most of my life. I've volunteered with big organizations and small ones, global and local, to raise money, to raise awareness, and often just for fun. If you asked me why I volunteer, I wouldn't be able to pinpoint one motivation. Sometimes I feel strongly about a particular issue or I want to learn more about a cause; and more often than not, my volunteering is linked to my desire to be involved in, and aware of, what's going on in the world around me. Active citizenship is important to me because I feel that apathy and passiveness allow injustice to go unchallenged.
Looking back, most of my volunteer positions have involved working with children or organizations that advocate for their rights; so becoming a UNICEF volunteer was right in line with what I'm passionate about. I can't remember not knowing about UNICEF (I used to trick-or-treat for UNICEF!), but I really became interested in their work as a member of my University's Model United Nations club. So once I completed my Master's degree in International Development Studies, I was incredibly excited to be chosen as a volunteer with the Community Engagement team.
Volunteering with UNICEF has been a phenomenal experience. I have been able to learn so much more about UNICEF's work globally and how they go about engaging Canadians. I am especially passionate about the organization's advocacy work, both in Canada and abroad. I've also been able to meet other volunteers and work with people who really value volunteer work and made me feel like a part of the team. Now that I am traveling and unable to volunteer in person, I'm glad that I can still be involved as a Digital Volunteer.
Digital volunteering is a great way to reap all of the benefits of in-person volunteering, with the bonus of being able to work it into your own schedule and help out from anywhere that you have access to a computer. I would even say that in some ways digital volunteering is more effective than volunteering in person; when you consider the power of social networking and the amount of people you can reach with an important message in just a few clicks – you really don't have to leave home to make a huge impact!
Volunteering is such an easy way to give back to your community while gaining so much in return. I can say, without a doubt, that my volunteer work has contributed significantly to my academic and professional achievements. Most young people in Canada are encouraged, if not required, to complete some form of volunteer work while in High School; that is a perfect opportunity to find an organization you would want to be involved with beyond High School and start to build relationships and gain skills that will help you in the future.
Sign Up
Become a Digital Volunteer today and join our UNICEF family.
Categories:
Geographic Regions: