Can Soccer Turn a Child's Life Around?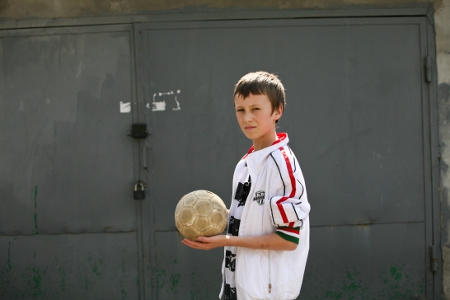 ©UNICEF/Ukraine/2012/Koryshov
Take 12-year-old Anton, whose dream is to one day become a soccer star like his idol, Cristiano Ronaldo. Anton suffered physical abuse at the hands of his step father, and was neglected for much of his childhood due to his parents' alcoholism.
While his family was staying in Odessa, Ukraine, his parents' alcohol abuse caused them to be evicted from their home. The family took to a life on the streets, begging for a living.
Then Anton was invited to attend a special summer camp run by a UNICEF-supported organization called "Way Home." It marked a major turning point in his life.
Now, Anton lives under the care of Way Home and attends regular classes. He has participated in specialized academic programs to help him catch up with other students his age.
He is also a proud member of a soccer team called "Domovenok" (Little Brownies), one step closer to his dream of becoming a star. Cristiano Ronaldo, Anton's favourite player, also grew up in a poor family. Anton believes that it was hard work and determination that helped his idol become a world-renowned athlete.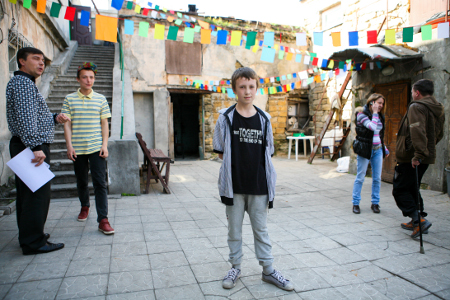 ©UNICEF/Ukraine/2012/Koryshov
Anton's story is not unusual. In Ukraine, many children are exposed to violence, drug abuse and poverty. Children who are orphaned or deprived of parental care, who live with HIV, who are living or working on the streets, who have disabilities, and who are in conflict with the law are some of the most vulnerable.
UNICEF believes in soccer's healing properties. On May 31, a week before Euro 2012, UNICEF hosted a soccer tournament for vulnerable children from around the country to raise awareness for children's rights in Ukraine, particularly the right to protection. It also promoted sport as a tool for integrating and assisting socially excluded children.
"Sport unites us. We believe football gives a chance for a better life to vulnerable children. Football is an important element in children's education and rehabilitation. That is why UNICEF works with partners to help children in difficult circumstances, to take them away from the streets and to prevent risky behavior by engaging them in football," said Yukie Mokuo, UNICEF Representative in Ukraine.
UNICEF supports sport for development initiatives worldwide. These activities are being used to promote good health, encourage education, create child-friendly spaces and warn about the harmful effects of smoking, alcohol and drug abuse. Through this and other initiatives, UNICEF will continue to encourage civil society and the private sector to unite and act in the best interest of Ukrainian children.
Adapted from text by Yuki Mokuo and Veronika Vashchenko.
Categories:
Geographic Regions: