Canada's Famine Relief Fund critical to getting life-saving support to 1.4 million children at risk
Today, the Honourable Marie-Claude Bibeau, Minister of International Development and La Francophonie, announced the creation of a Famine Relief Fund, building on its commitment to reach the most vulnerable affected by the famine crisis. The size of Famine Relief Fund will match the amount of qualified donations made by individual Canadians, meaning the generosity of Canadians will have twice the life-saving impact. All donations made between March 17 and June 30 will be counted in this match. Meg French, UNICEF Canada Chief Program Officer, had the following response to the announcement:
"We're very pleased by Canada's commitment to establish a pooled fund for the famine crisis response – allowing for Canadian donations to reach twice as many children and families across the affected areas with critical, life-saving support.
What is famine?
When a famine is declared, it means all of three things: at least 20 per cent of households in an area face extreme food shortages with a limited ability to cope; acute malnutrition rates exceed 30 per cent; and the death rate exceeds two persons per day per 10,000 persons.
Today, 1.4 million children across South Sudan, Nigeria, Somalia and Yemen are facing imminent risk of death, and 22 million children are hungry, sick, displaced or out of school. A famine has already been declared in parts of South Sudan and looms large in the other three countries and the Horn of Africa. We're now facing the very real possibility of multiple famines. This Relief Fund is needed now more than ever.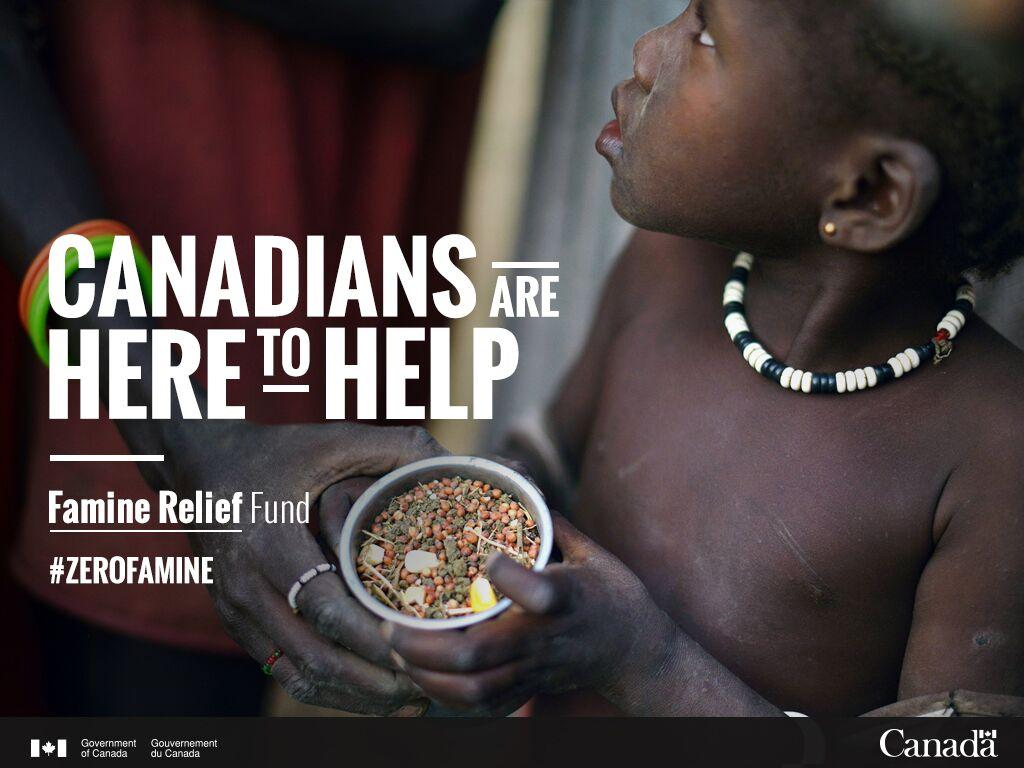 UNICEF has been intensifying its response in the wake of the famine. We have more than 750 staff in 30 different field locations across the four most affected countries, working to bring life-saving aid to vulnerable children and families. Our rapid response teams are reaching communities in the most remote locations with treatment for malnutrition, immunization and safe water and sanitation services. But despite the work of UNICEF and its partners, the spread of the food crisis is far outpacing the response.
Today's announcement builds on Canada's leadership for vulnerable children around the world. This continued support of Canadians will make a difference in providing life-saving assistance where it's needed most."
To donate to UNICEF Canada's famine response go to www.unicef.ca/famine.
Categories:
Geographic Regions: