Celebrating World Teachers Day for every teacher and every child
Happy World Teachers Day to teachers around the world! Thanks for inspiring every child to reach their full potential.
We're so proud to train and support teachers - especially those making a difference to the world's most vulnerable children. Sometimes children miss out on school because of poverty, gender, geography, disability, or conflict - but these teachers rise to the challenge and get things done. We salute you!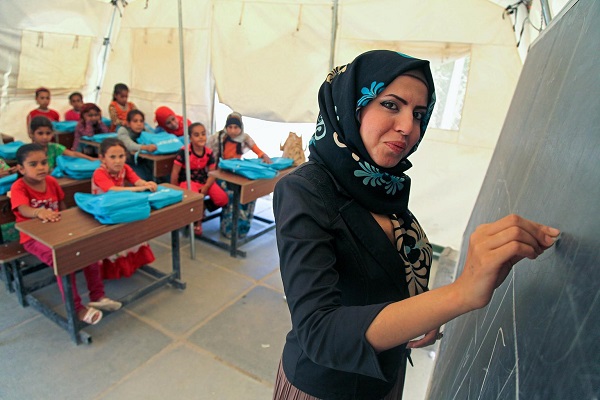 IRAQ – Teacher Hiba Ahmed writes a lesson on a chalkboard for students inside a UNICEF tent classroom, in a camp for Internally Displacement Persons near Baghdad. Children living in the camp fled their homes because of conflict. Schools are short of teachers, drop out levels are high and the number of schools is limited – but teachers like Hiba are dedicated to ensuring that children receive an education even in the face of adversity.
As the leader for Education in this emergency, UNICEF has coordinated the response of more than 24 national and international education partners. Between 2014 and 2015 UNICEF provided safe and quality education to almost 300,000 children in camps and host communities.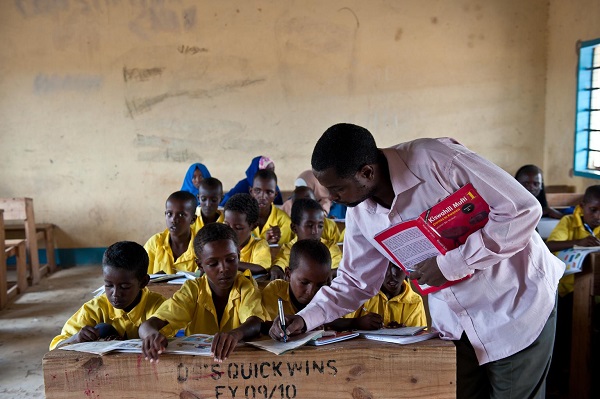 KENYA - A teacher corrects a boy's paper in a classroom at a boarding school for primary students in the town of Bura, Garissa County. Nomadic pastoralist communities move with the rains, seeking greener pastures for their animals, but their mobility often results in low school enrolment rates. Rates are especially low among girls, who are often expected to care for younger siblings, cook, do housework and tend livestock.
Mobile schools, which move with the communities they serve, help keep more children in the classroom. UNICEF, teachers, and the county's director of education have been working to promote the value of education for every child - even the hardest to reach. There is no child too far.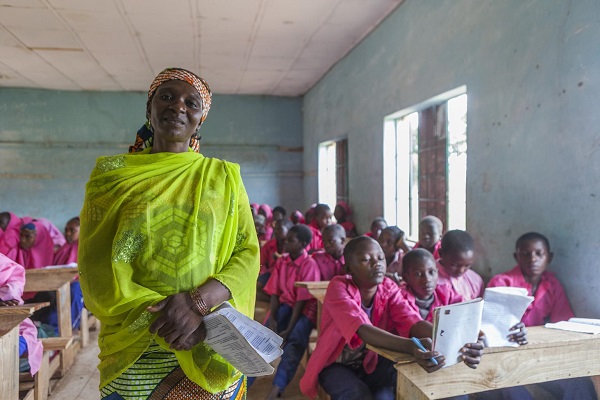 NIGERIA - Teacher Lami Samuel stands in the classroom where she works at Gyezmo primary school in the town of Toro. Here, there are few girls enrolled in school - and fewer female teachers. Ms. Samuel underwent teacher training, including on child-centred methodologies, through the Girls' Education Project (GEP).
The GEP aims to get one million more girls into school by 2020, while at the same improving the quality of education. The project also calls for the deployment of more than 10,000 female teachers to rural areas, where the predominance of male teachers deters many parents from sending their girls to school.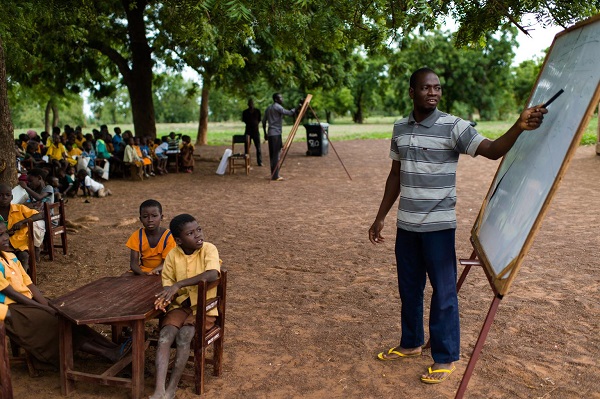 GHANA - Sandow Adam, a volunteer teacher, gives a lesson to his Kindergarten 2 class at the Tong District Assembly Primary School. There is no classroom for his students, so they sit at tables under a tree during the school year. Adam is motivated "to help my younger brothers and sisters" and teaches from 7:30 am to 1:30 pm, five days a week, except when he needs to take a couple of days off to weed his crop fields.
By the end of 2013, 59 million children were not in primary school. We're working hard to overcome barriers to education – including setting up schools in the poorest and most remote villages.
ARUBA - A girl embraces her teacher at Pasa Dia Bibito Pin, a centre for children with mental disabilities, in the village of Piedra Plat.
Children with disabilities are one of the most marginalized and excluded groups in society. We're working renewed to identify and address the root causes of inequality so that all children – particularly those who face the worst deprivations in society – can realize their rights.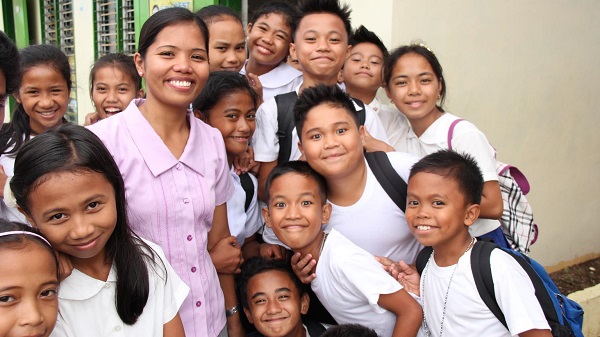 PHILIPPINES - Teacher Chyrine Medino smiles with her students at Quinapondan Central Elementary School shortly after Super Typhoon Yolanda. When the Typhoon hit her community, Chyrine tragically lost her house – and her husband – leaving her to grieve with her sons. But three days after Yolanda, Chyrine was back in school to assess the damage. By the third week, Chyrine and the rest of the faculty started informal classes with some of the pupils. It was their way of restoring some normalcy for the pupils and teachers.
Within the week, UNICEF sent materials including books and school supplies for the children and instructional material for the teachers. They also sent two tents and furniture to be used as temporary classrooms. Eight months later, the school was almost fully operational.
These teachers are heroes and deserve our admiration and support.
Categories: