Child Soldier Story: From war to recovery
International Day to End the Use of Child Soldiers
February 12 is the International Day to End the Use of Child Soldiers. Every child deserves the opportunity to play, laugh and learn; to explore and grow in a world that nurtures them. But we hear too many child soldier stories from South Sudan, where a conflict is robbing them of their childhood.
Since war broke out in South Sudan in December 2013, all sides in the fighting have forcibly recruited as many as 16,000 children. The death, abduction and sexual exploitation of children in South Sudan is an ongoing problem. And it's one that UNICEF is doing everything in its power to stop.
The story of a former African child soldier: Ishmael Beah
In 1991, the outbreak of a brutal civil war in Sierra Leone uprooted the lives of millions, including that of Beah and his family. His parents and two brothers were killed and he was forcibly recruited and used in the war at age 13. He had to fight for the government army against the rebels. He was heavily influenced by various ways of brainwashing and drugs like amphetamines and cocaine that they gave him and the other child soldiers.
After two years and with UNICEF's help, Beah was one of the children released from fighting forces. He is a proof of the impact that UNICEF can have. He was placed into a rehabilitation home in Freetown where he received psychosocial support to begin to recover from the trauma.
Where is he now?
Today, Ishmael Beah is an author and UNICEF's first Advocate for Children Affected by War. Baeh also met with many of the same children UNICEF helped release. He helped to unveil programs that will help these young people overcome their trauma.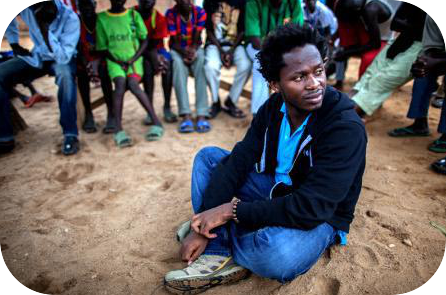 Revisiting Africa
Beah recently travelled to South Sudan, Africa to advocate for the release of children forced into armed conflict, and to help begin the transformation of the lives of those able to put down their weapons. His mission was an emotional one.
"Over the past week, I have met with former child fighters who have now laid down their weapons and they are clear about their wishes for the future," says Beah. "They want peace, education and a better future."
What is being done to stop the use of child soldiers?
Lieutenant-General Roméo Dallaire, who commanded the United Nations Assistance Mission for Rwanda in 1994, and wrote the book Shaking Hands with the Devil, is the founder of The Roméo Dallaire Child Soldiers Initiative, with a mission to end the use of children in armed conflict.
Dallaire called upon his own experiences, and his belief that children must be protected. "There has to be a sense of urgency to protect children in South Sudan from being used by armed forces and groups and to ensure that the thousands already serving are immediately released and have opportunities for a better future." He also met with some of the 1,755 children whom UNICEF recently helped free from one of the battling factions.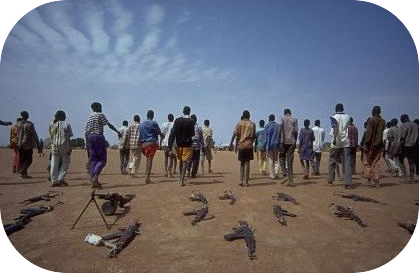 Ways to keep children away from becoming child soldiers:
Access to education can change children's lives and help former child soldiers reacclimatize to society. It plays a key role in showing them that a life without fighting, guns and violence is possible – as it should be for children.
How can you help?
Purchase a Survival Gift in the Education category
The importance of advocacy by passionate voices like Dallaire's and Beah's cannot be overstated. When they travel halfway around the world to war-torn South Sudan, they help draw attention to the issue of children forced into armed conflict and focus pressure on all parties to make things right.
How can you help?
Take action by hosting an event or starting a fundraising campaign
Better future has begun for the children already released. They've been given the opportunity to be reunited with loved ones and to begin the long journey of healing from their trauma and to create new possibilities for themselves. We must all continue to work for a day when thousands of other children caught in conflict, have that same opportunity.
How can you help?
Reunite a child with their family for $24
Thanks to the efforts of our partners and advocates, and the generosity of Canadians, we will continue to work until no child is forced to fight in South Sudan or anywhere else.
Categories:
Geographic Regions: