Children bear the brunt of the Israeli-Palestinian conflict
The recent Israeli-Palestinian conflict has devastated and taken lives. On both sides of the border, children were worst affected – scarred for the rest of their lives by raining bullets and bombs.
A ceasefire was brokered on November 21 to put an end to needless deaths. However, children continue to display worrying symptoms of psychosocial distress. Five UNICEF emergency psychosocial teams are visiting hospitals and homes to speak with children and families who have been victim of, or have witnessed, extreme violence.
UNICEF remains committed to alleviating the suffering of children and women – irrespective of the political context they are living in.
UNICEF staff on the frontlines are assisting children and families. The following is an eyewitness report from UNICEF's Catherine Weibel in Gaza.
In Beit Hanoun, an agricultural area in Gaza, Ahmed Bassiouni talks about how, one night, he had to comfort his children before they went to bed. His 15-year-old daughter Diana pulled the blanket over her head in an attempt to feel safer. Shortly after, an air strike hit close to home. "All the children were screaming, except Fares. I could see that he had been killed by shrapnel. I put a blanket over him – it was a terrible sight. I could not let his siblings see him. After that, I screamed."
Already struggling to come to terms with the death of his 9-year-old son, Mr. Bassiouni says he does not know how to help his other five children. "They will not eat, they will not play and they will not go outside. They just remain indoors and cry," he says over the phone. The rumbling sound of shelling was heard through the receiver.
Five emergency psychosocial teams supported by UNICEF are reaching out to families like the Bassiounis. The teams are visiting hospitals and homes across Gaza whenever conditions permit. UNICEF is supporting partners to launch a hotline so that families can talk with a counselor on the phone when movement is restricted.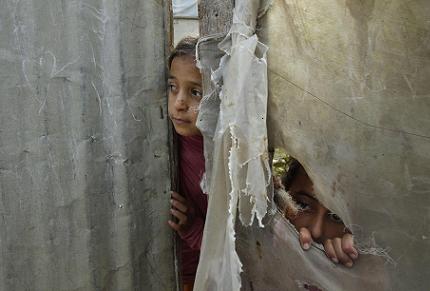 On November 19, a 12-year-old girl and a boy peer through openings in their damaged home in the Al Bureij refugee camp, central Gaza.
"For young children, such a major event is traumatic because it undermines their sense of security. They do not understand what is happening, and they feel helpless. Sometimes they even think they are responsible for the distress in their family," says UNICEF occupied Palestinian territory Chief of Protection Bruce Grant.
"Psychosocial response is about talking to the child, telling him that these events can happen and that it's normal to be scared. We try to build resilience, but restoring a child's sense of security is a long-term process," he says.
Families who were not directly affected by air strikes still have reason to worry for their children. Many children have wandered around the streets during the height of the conflict, where they saw collapsed buildings, injured people and dead bodies.
Being so close to war was overwhelming. "My one-year old son Kamal has not been the same since the air strikes started," says UNICEF Communication Officer in Gaza Sajy Elmughanni. "He used to be a happy baby, but now he sits and stares blankly. It makes me feel powerless."
Children will start to heal once they feel safe at home and at school, which is why repairing schools is a priority for UNICEF. In the coming weeks, UNICEF will repair 118 schools for minor damage and distribute 20,000 school bags to children in Gaza.

This blog post features material originally authored by UNICEF's Priyanka Pruthi and Catherine Weibel.
Categories:
Geographic Regions: