Children helping children: One little girl's birthday and New Year's Resolution touches hundreds
Few things are as rewarding as hearing stories of children helping other children, especially when they are strangers from halfway across the world.
Take the story of Madison, for example.
Madison is a seven-year-old girl from Markham who heard about UNICEF Survival Gifts from her parents, long supporters of UNICEF. Survival Gifts are life-saving gifts sent to help children in need around the world.
When Madison was just five years old, she got her hands on the Survival Gift booklet that arrived for her parents in the mail. Madison had lots of questions for her parents about the different types of gifts and, realizing how many children are deprived of even the basic necessities in life, quickly began to want to do something to help those less fortunate than herself.
As her family contemplated New Year's Resolutions, each member agreed to write down three resolutions. Madison wrote down:
Have a baby sister.
Reach Level 6 in swimming.
Raise $500 for a UNICEF Water Pump.
Madison began saving the money she earned for chores around the house, as well as monetary gifts from friends, but realized it would take her a long time to reach her goal this way.
Then, for her sixth birthday, instead of asking for toys or other presents, Madison decided she was going to use the money that friends and family intended for birthday gifts and donate it towards the water pump.
Water pumps are vital for communities. They provide access to safe, clean drinking water, and allow girls who used to miss school because they had to walk miles to collect water, the chance to finally go to school.
Madison wrote a letter explaining her cause, identified which family and friends she could reach out to, and began pleading her case. She even sent out a reminder the week before her sixth birthday in one last push.
By the time her birthday came, Madison had not only reached her goal of $500 to buy one water pump, but she had more than doubled that goal, raising $1,064 from 15 different friends and family members, including a donation from her grandparents who matched all the dollars she raised to support her cause.
Together with her parents, Madison went on to the UNICEF Survival Gifts website, read through all of the different items, and chose where to direct her donation. She was able to buy one water pump, one mobile health unit, one early childhood development kit, two water health bundles and one bicycle.
Thanks to Madison, 300 children would gain access to safe water, 32 children would be vaccinated against life-threatening diseases, 32 children would be treated for dehydration, 25 children would be given opportunities for fun learning activities, and one child would receive a bicycle to help with fetching water and getting to school.
Madison wrote a thank you letter to everyone who supported her.
"Thank you everybody for donating to my water pump project. It makes me feel happy to raise money for children so then they can have clean water. Since we raised more than we thought we needed, I chose extra UNICEF gifts to give clean water, medicine, books, pencils, and puzzles because I like to do those things too. I am very proud of everyone because together we helped more children and people. Thank you. Love, Madison."
On behalf of all the lives you changed, thank you, Madison.
Your birthday wish is helping almost 400 children survive more birthdays themselves, and make more wishes of their own.
The ripple effect of that is priceless.
BELOW: Madison sketched a thermometer to keep track of her fundraising efforts, even coding the names with just initials.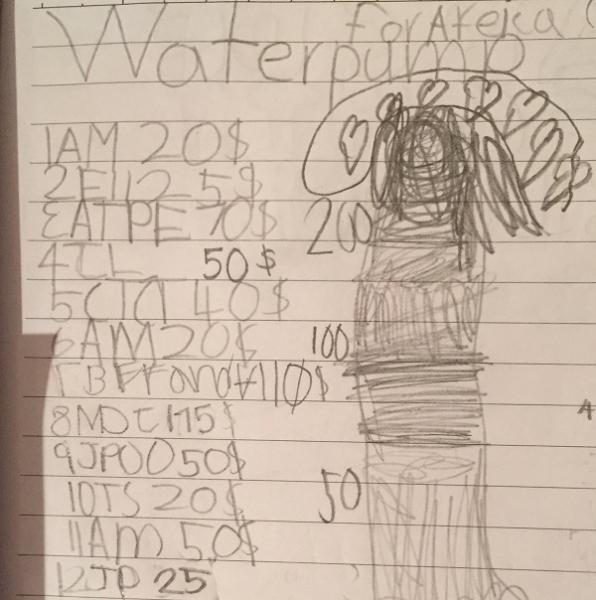 Categories:
Geographic Regions: