Congratulations India on being Polio-free for 3 years
Once considered the hardest place to eradicate polio, India now celebrates three years since its last case.

This is a monumental milestone for India, which until 2009 accounted for more than half the world's polio incidence with 741 cases of polio paralysis.
Experts believed issues like a high population desnity, poor hygiene and sanitation and poor health among India's poorest would contribute to India being the hardest country to make polio-free.

However, despite theses major challenges to eliminating the disease, a strong commitment from the Indian government and its partnership with Rotary, the World Health Organisation and UNICEF has achieved the goal.

India's achievement has also been possible through the tireless hard work of millions of frontline workers – vaccinators, social mobilizers and community and health workers.
And the systems built to eradicate polio are now helping to fight other diseases.


UNICEF and partners are also applying important lessons, successes and systems to other countries (like Nigeria, Pakistan and Afghanistan) to eradicate the disease for good.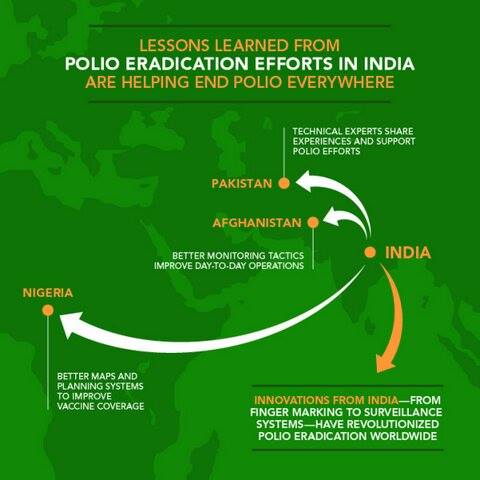 Join us to eradicate this highly infectious and incurable disease for good by purchasing polio vaccines here.
Categories:
Geographic Regions: