Critical supplies land in Haiti
You can help us respond and help those in the hardest hit areas of Haiti by making a donation here.
Port-au-Prince, 2016/10/20 – This morning at 8:10 am local time a large cargo plane arrived from Copenhagen – filled with 100 metric tons of live-saving supplies. The flight was donated by UNICEF's corporate partner, the UPS Foundation. A generous gift to the ongoing operation on the ground. Despite pouring rain which darkened the sky above the capital this is joyous occasion that brightens everybody's day.
On board of the plane, 1 million Oral Rehydration Salts (ORS) sachets; 600,000 packs of water purification tablets; diarrheal kits; midwifery kits; medical equipment and medicines. Besides there are education supplies, including 200 school-in-a-box kits, each with enough supplies for 40 students –which comes perfectly in time as schools have started to reopen progressively since Tuesday.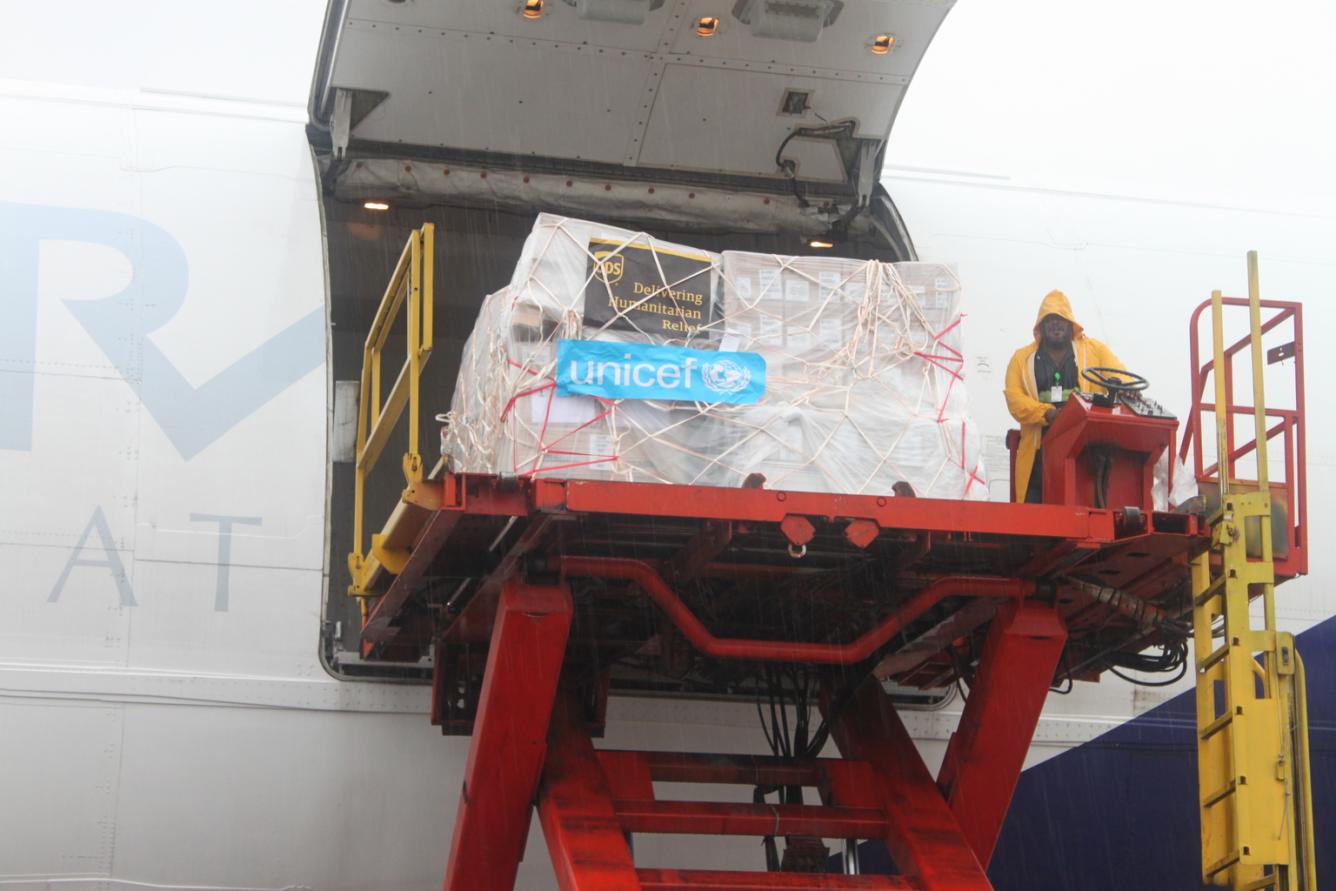 As I write the cholera supplies – such as diarrheal kits, water purification tablets and ORS are already on their way to Les Cayes and Jeremie. The supply chain is an acrobatic endeavor that requires precision and careful planning to make sure that no minute is wasted. From the moment when the plane touched Haitian soil, Country office staff has taken over to ensure dispatching to the field in line with a Supply plan that had been prepared for each programmatic sector over the past few days, based on assessment results provided by partners and teams deployed in the field. From A to Z nothing is left to chance, everything is scheduled to ensure fast & efficient delivery to those who need us now, children in Jeremy, Les Cayes and beyond.
Yesterday the Representative has signed the rental agreement for the UNICEF sub-office in Les Cayes, It will open officially from Monday next week, covering operations in the two departments that are the most affected, the South and the Grand Anse. Recruitment is underway, with a focus on the identification of qualified Haitian staff to ensure the sustainability and appropriateness of our interventions.
Insecurity is increasingly an issue. There have been various incidents when frustrated communities stopped aid trucks on the road, requesting parts of the freight to cover their own needs. In particular convoys with food are targeted. Taking this into account security is being boosted, with escorts from the UN peacekeeping troops (+500 additional soldiers) and the local police force (PNH). It is a tense situation as populations become more and more desperate for help.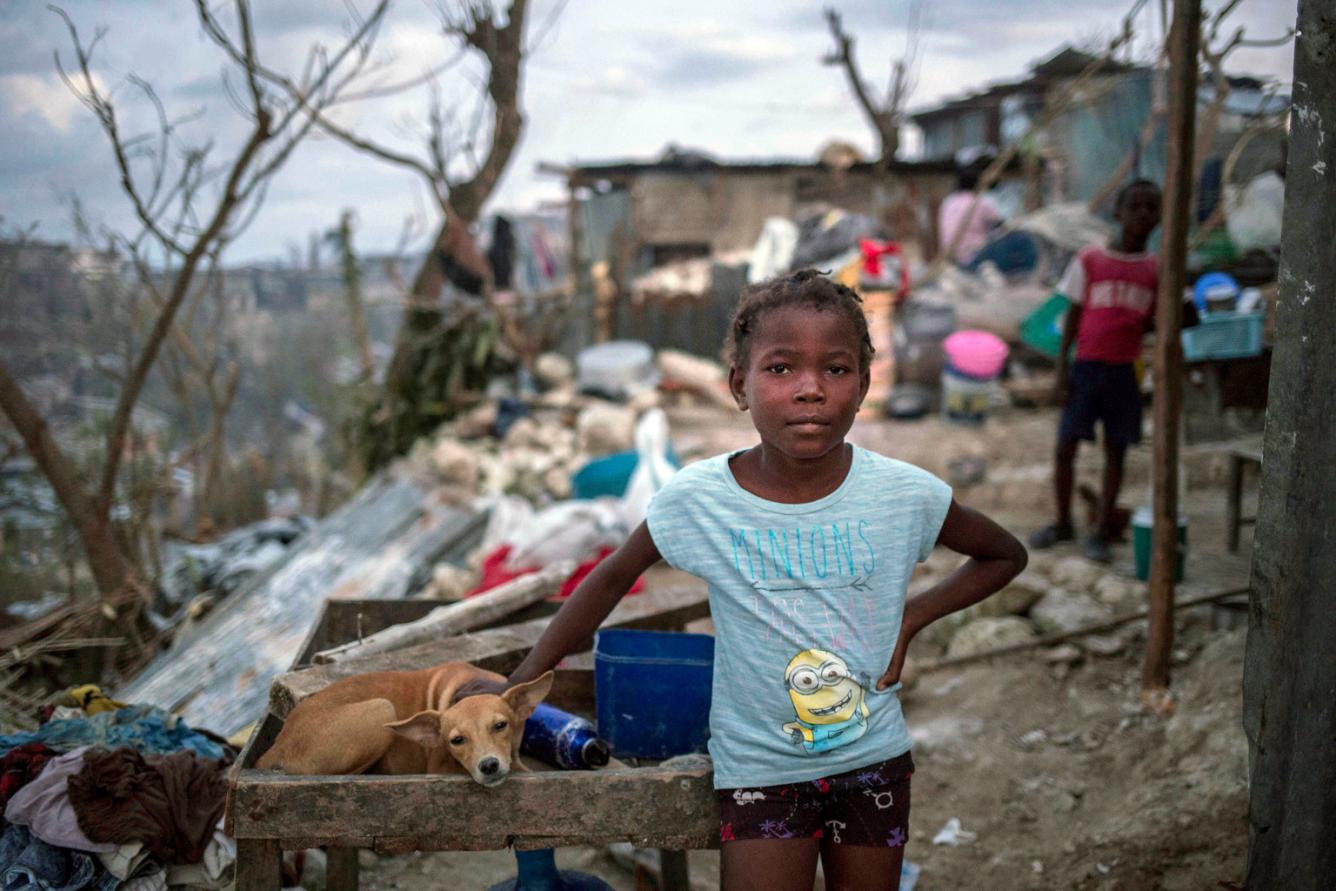 UNICEF operations are on track, moving forward at full speed. Every day brings further news about additional supply deliveries, enhanced water access, reopened schools. It is a herculean task to reach all children in need. Yet as UNICEF teams have proven in many locations all over the globe - it can be done, and therefore it will be done in Haiti.
Until lately some areas, mostly those located in the Western highlands had remained out of reach. Already before the hurricane there had been no road to access them. Organizing aid delivery to communities who live there is a logistical nightmare. Yet it is not impossible. As UNICEF has now secured cargo-space on two helicopters, some of the emergency supplies that arrived this morning will be travelling to these locations in the coming days. All children have the same rights, no matter where they live. Hampered access cannot neither abort nor weaken their entitlement to live-saving support.
Finally, additional funds have been confirmed, including most recently generous contributions from UNICEF's French National Committee, the Australian Government and the Office of U.S. Foreign Disaster Assistance (OFDA). Revision of the funding appeal is underway and will be released shortly in order to reflect accurately the prevailing situation of needs on the ground. Everything is in motion, moving forward at full speed.
Thank you & Mesi
Cornelia Walther is Chief of Communications for UNICEF Haiti.
You can help us respond and help those in the hardest hit areas of Haiti by making a donation here.
Categories:
Geographic Regions: