David's Blog: Mahmoud lives with dignity In Domiz refugee camp
"In Syria," Mahmoud said, his eyes watering, "we lived like kings and queens."
And then he fell silent.
Mahmoud was a driver in Damascus. "I can drive anything, lorries, busses, taxis." One day, as he came home from work, he found his street filled with bodies.
"It looked like a river of bodies."
And so Mahmoud and his family fled here to Domiz Refugee Camp.
We are sitting in their family tent. Well, two families, actually. Nine people are living here. They have a tiny shop outside – that's how we came here. I was looking for a bite to eat and next thing we knew we were invited through the shop into their tent for a cup of scalding hot sweet tea.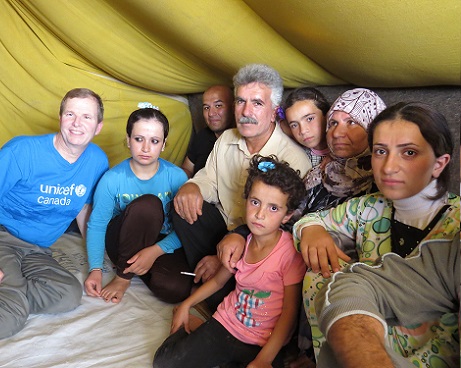 Slowly the rest of the family gathered. Their elder daughter Falak came back from the school we've been helping and started to do her homework. Mahmoud's wife Rosala and their younger daughter came back from shopping. The food voucher system means people get coupons to get their food at the local market instead of receiving bags of food – it is a cheaper way to get food to refugees and allows for more freedom of choice for them, too.
"The children were so afraid in Damascus," said Rosala. "If they heard a plane they would come running to us. They couldn't sleep. They are calmer now, it is safer here."
But it isn't without its problems. "There isn't enough water. Things get so dirty here. And there is dirty water in too many places – that can make the children sick."
We are providing the water in the camp, but it is hard to keep up with demand. The number of Syrian refugees in Iraq has tripled in the last six months, and it is expected to double again by the end of the year. Domiz Camp was built for 22,000 people and twice that number live here now. We're providing water and sanitation to almost 30,000 people – that's like building and operating a water system for everyone in Charlottetown, PEI in just 12 months – but it still isn't enough. It is as though the world has forgotten these people, and when the world looks away it means we don't get the money we need to provide the help to the victims of this war.
Now, it isn't as though people who live here in Domiz are just waiting to be given things. Mahmoud and Rosala want clean water, yes, but most of all, said Mahmoud. "I want to get a job. I have to do something to support my family."
So often people think of refugees and refugee camps as places where people wait for the next handout. That is never the case here.
Yes, they are traumatized – they have fled the most brutal war in the world today. Yes, they need help. But they are also taking control of their lives – you see it in the little shops set up in front of the tents, you see it in some of the dwellings which are changing from tents to cement block, you see it in the shwarma stand where we ate falafels for lunch. People want to make a better life for themselves here.
But still, "We want to return to our home," says Mahmoud, his handsome face showing the strain. "We are afraid to go home, and we don't know what will come next. But in the meantime my children must go to school; I do not want my daughters to be illiterate. But I want peace so I can go home."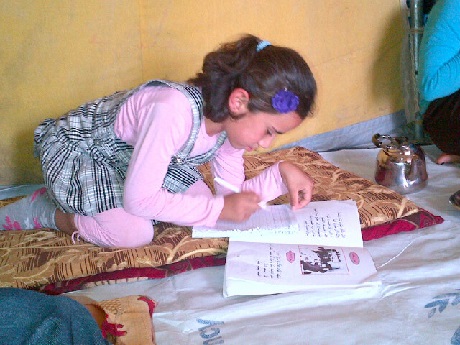 To support UNICEF's work for Syrian refugee children, please donate at unicef.ca/syria.
Categories:
Geographic Regions: