David's Field Blog: Green Hunger
Ouahigouya, Burkina Faso: On the other hand, this country can fool you, too. Driving north from Ouagadougou in the golden afternoon sun the rusty red soil and ochre houses and thatched huts are beautiful amidst the glowing grasses, the green sorghum and millet growing strong. I have never seen Burkina Faso in this lovely shade of green and looking so lush. How can there be a nutrition crisis here?
"This is a green hunger," explained Jim Cornelius, head of the Canadian Foodgrains Bank. "I was in the region in May and village granaries were empty, totally empty. But since then the rains have come. This harvest looks promising, but people still don't have enough to eat. The harvest won't be for two more months. If they start eating this food now, before the crops are ripe, then the harvest will be too small, it'll go too quickly and they'll be back in the same problem by next year. We still need to distribute food now so that they can have food next year. Food now will save lives, and a good harvest will give them something to build on for next year."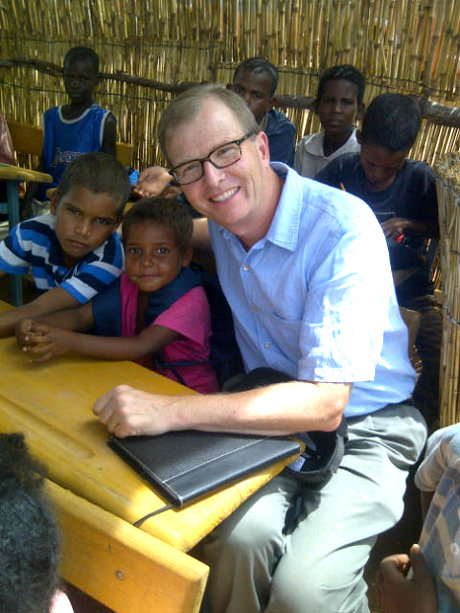 David Morley, President and CEO of UNICEF Canada, visits a school at the Mentao Refugee Camp.
And it's not just the crops and food distribution explained Fatou, who trains Community Health Workers for UNICEF. The Ministry of Health is getting better, but it still cannot cover the whole country. Moderate malnutrition is still chronic. "Malnutrition has so many causes," she said. "Food without enough micronutrients, poor hygiene and sanitation, if a mother's health is poor then her baby is also more likely to be malnourished; some good foods are considered taboo. Addressing malnutrition isn't done just in nutrition centres; we need to change behaviour and attitudes, too."
Although all our efforts and those of our partners have reduced the acute malnutrition rate amongst children, it is still at 10%, and one-third of the children suffer from stunting. Stunting is caused by chronic malnutrition – and it not only means a child is smaller than usual, but also risks permanent intellectual and physical impairment.
"Poverty is at the bottom of it all," said Fatou, flatly. "But I have seen that if you give parents even a bit of knowledge about handwashing, about nutrition, then they can overcome it. If you remind them that malnutrition does not have to be commonplace, to treat it as a disease, they will bring their children to the Community Health Works, they will get treated, they can get better."
And, as we stood at the Community Health Centre in the little village of Namasa, with a welcoming committee of about 200 villagers eager to meet Minister Fantino and the Canadian delegation, we could see both things – that too many children are suffering from stunting – and their parents are trying their best to ensure that they will get a better start in their lives.
Until September 30, all donations made by Canadians toward the nutrition crisis in the Sahel will be matched by the Government of Canada. Donate today, and your gift will have double the impact.
Learn more about the humanitarian crisis in the Sahel, and spread the word for children.
Categories:
Geographic Regions: