David's Field Blog: Haitians in the driver's seat
By David Morley
President and CEO, UNICEF Canada


HAITI, October 22, 2011.
The warehouse is big – well, it looks pretty big to me. 15 very large tents in a walled compound with a couple of small portable buildings to serve as the administrative hub. This is our centre of logistic operations for Haiti.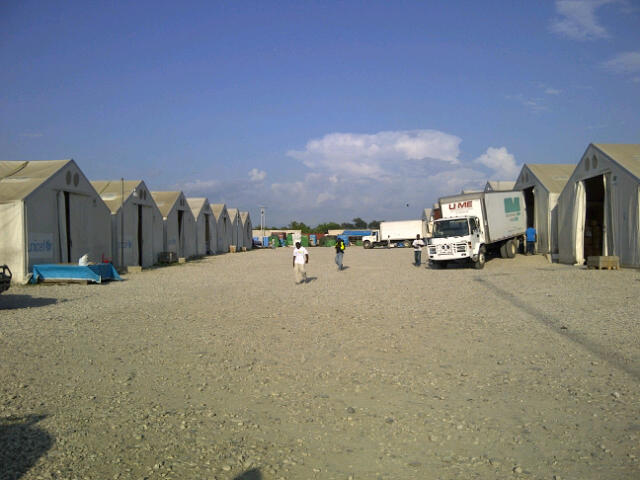 This warehouse was built immediately after the earthquake.
Stephan, our Logistics Specialist, knows his stuff well. He's worked all over the world, with the same organizations I have – MSF and Save the Children – and many more as well.
"Right after the earthquake it was very hard. The port was full, we had 89 containers coming in and we didn't know what they had. And the earthquake had destroyed all our records, too. But we've been developing a system of control, and how to get the materials in, sorted into school kits, and out again." We are more than half way through distributing materials for our "Go to school" campaign – enough school materials for 750,000 students around the country.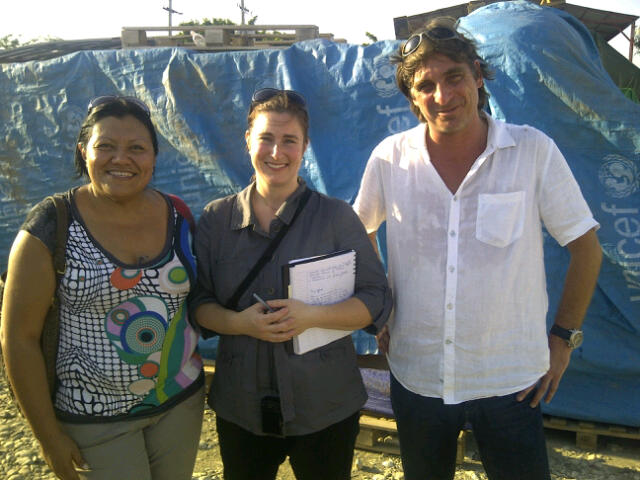 Meg, Irene and Stephane in the warehouse. Stephane is the logisitic specialist who briefed us - and we also chatted about MSF days.
Three solar panels were on the ground by one of the tents. Stephan was excited about these. "We are running a test – we're using these panels to run a special cold unit for the vaccination cold chain to make sure the vaccines don't get too warm and lose their efficacy. If it works it will make a huge difference to children's health." This is a sign of the future in a country like Haiti, solar energy at the service of improved health for children.
Logbase
Not too far from the warehouse - although it seems to take forever in Port-au-Prince's clogged traffic - is Logbase, the UN compound which houses our offices. They are all new temporary structures. It looks like a field filled with tiny school portables because the old UN compound was destroyed in the earthquake. It's a time for briefings, so we go under a tent to hear about security, programs and to talk about the Clusters.
The Cluster System is how international agencies try to coordinate their activities in an emergency. UNICEF is the lead in three of the clusters – Nutrition, Child Protection, and Water, Sanitation and Hygiene (known as WASH) – and we share the Education coordination with Save the Children.
"Over the past year one million people have left the tent cities and gone home – but that means there are still 550,000 people living in tents and we are running out of room in the city," says Herbert, our WASH Cluster Coordinator. "There are still 100 camps, and the people in them are the most vulnerable, the poorest, the hardest to help find a new place to live. They don't have the money to build a new place, they cannot afford rent, so they stay. Things here may be starting to look normal, but we are in an extended and chronic emergency. We cannot continue with a foreign-led relief effort alone, we need to be sure Haitians are in the driver's seat."
This week the President was finally able to form a government, so that should help. But when the earthquake hit Haiti lost not only all those citizens, in economic terms they lost the equalivanet of an entire year's GDP. "In five hundred years no other country in the world has ever suffered a loss like that" Jorge, our Child Protection Cluster Coordinator says with passion.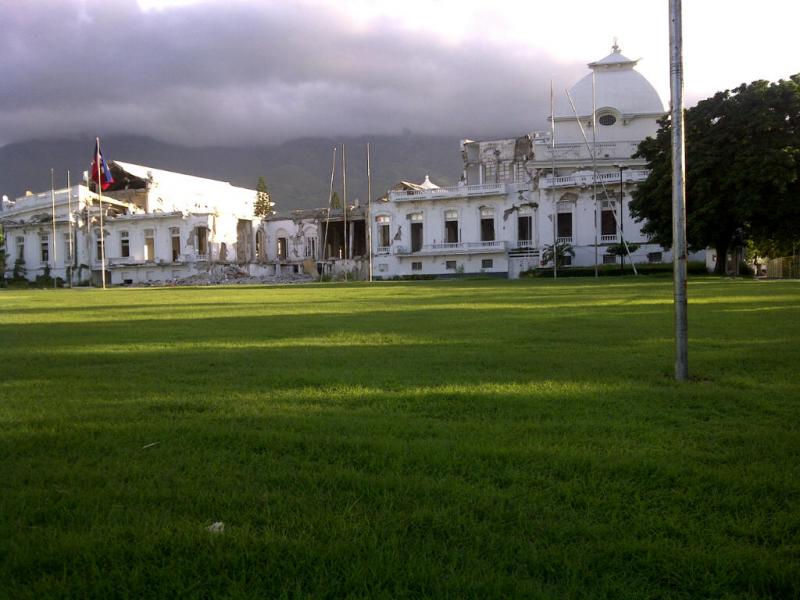 The Haitian cabinet was just finalized 4 days ago after months of delay. They meet in a temporary structure behind the destroyed palace.

But of course, Haiti was in a chronic state of emergency before this emergency, too. It was already the poorest place in the Americas and it is as though the earthquake cracked open this society for the world to see just what it means when half your children have never gone to school, when half a million children must work to stay alive, when health coverage has been minimal and when many basic government services simply do not work.
"I think this difficulty will continue for two more years," says Herbert. The NGOs are scaling back immediate relief efforts and now that there is a government, we can begin working with them so they can take more responsibility.
Turning this disaster into an opportunity for development; thinking about how we can scale back our operations and hand them over to Haitians while there are still half a million people living in tent cities - the challenges are enormous. "But UNICEF can play a special role," says Herbert. "Because of who we are we can coordinate with the government and with our civil society partners. We can help Haitians build something new here."
Categories:
Geographic Regions: