David's Field Blog: Mentao Camp
Camaraderie builds as the trip goes on. We're up at 5:00 AM "Bonjour," "Vous etes bien dormi?" and have a quick breakfast of coffee, bananas and baguettes (as far as I can tell French baking is a staple in everywhere Francophone Africa, even in provincial towns like Ouahigouya). The cars are organized "M. le Ministre lá, son excellence l'ambassadeur ici, Vision Mondiale ici, UNICEF lá" and we dash through the teeming rain to our assigned seats.
The convoy snakes along the unpaved road, a long line of vehicles avoiding washed out sections and potholes. For 100 km the drive goes on. Occasionally we pass villages, mosque spires and church domes poke above the trees; skinny cattle graze at the road side (and how good it is to see cattle skinny and alive, instead of, as last year in the Horn, skinny and dead). Children wave as we pass; enjoying the downfall by playing in lagoons covered with lovely white water lilies.
Finally, three hours later, we see Mentao Refugee Camp through the trees. It is vast, yet sparse; tents and domed shelters of thatch and plastic sheeting, spread out over the flat plain of northern Burkina Faso. Goats are grazing here, too. "Are this Malian or Burkinabé goats?" I asked Fatou. She smiled. "I don't know – we're so close to the border here it's hard to tell. They're probably cousins anyhow."
A quarter of a million people have fled fighting in Mali this year – 100,000 of them have come here to Burkina Faso. The government of Burkina has tried their best to welcome them. I wonder, though, would we in Canada be able – or willing – to welcome 100,000 destitute strangers (even if they were almost cousins)? The generosity of the Burkinabé people is remarkable – all the more so because it is apparent that, in general, these refugees are in better health than the community which is helping them. I remember what Abou said back in Ouaga – that many of the Malian refugees are sharing their food rations with the local Burkinabé villagers.
Many agencies are working here. Plan, WFP, HCR, OXFAM, Terre des Hommes – logos abound – and most receive their support from us. We are supporting schools run by Plan, and have worked with the Burkinabé Ministry of Education to get qualified teachers here. We provide protection services for orphans and unaccompanied children. We've provided vaccines for MSF's vaccination programs and the materials to help the most malnourished children. Hygiene and cholera awareness campaigns are carried out by OXFAM. The famous African proverb is made visible in the sea of faces and logos – it does take a village to raise a child.
The arrival of Minister Fantino and a Canadian delegation and the presence of the local Governor gives the Camp Management Committee a chance to raise their concerns. We see three presentations – from the men, the women and the children – and their messages are similar. "Thanks to the help of many partners we are getting food, but not enough. And we are not used to living in these shelters, there is no privacy. Pre-school and primary school started yesterday when the school system started up after vacations, but there is no high school. Our children lost last school year when we had to flee, they may not get to school this year. Since the life of a Tuareg lasts 40 years, two years is a lot."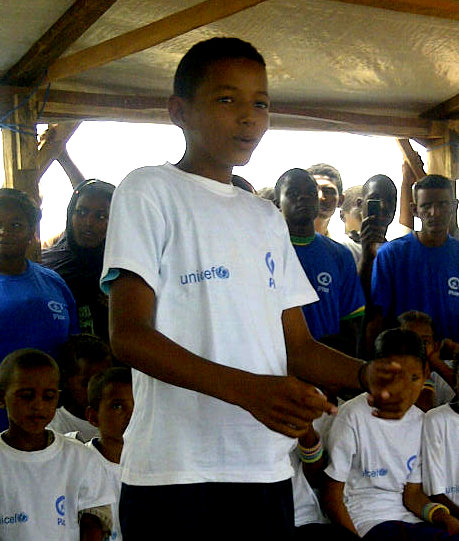 A boy at Mentao camp recites a poem he wrote about peace.
The children were animated and excited, happy to be able to make their presentations – they sang, played games, and one of the children recited a poem he had written about peace: "What we really need is peace in our country so we can go home." The village elder sitting beside me, dignified and proud in his colourful robe and turban said quietly, almost to himself, "Oui. Ça, c'est la verité."
And here's the rub. There are no humanitarian solutions to humanitarian problems like this. We can, we must, help these homeless people as best we can, but they want to go home. And for that to happen, a political solution in Mali must be reached so that the violence stops and they can go home again.
But until then, until we know what will happen in six months' time we have to keep going. For the children keep on growing; they cannot wait for national and international leaders to sort things out. These children of Mali still need help now. One year is a very long time in the life of a child, so the child-friendly spaces and the schools help give children here a place to grow in safety and security.
As is so often the case when I find myself in a place like this, I feel privileged to be able to work for an agency that is making a difference, and the responsibility to take back home to Canadians the urgency of the needs here, and the great difference that their assistance is making to another group of children who have had their lives uprooted by war.
Until September 30, all donations made by Canadians toward the nutrition crisis in the Sahel will be matched by the Government of Canada. Donate today, and your gift will have double the impact.
Learn more about the humanitarian crisis in the Sahel, and spread the word for children.
Categories:
Geographic Regions: