David's Blog: A Global Partnership
By David Morley
President and CEO, UNICEF Canada
March 16, 2012 - Tanzania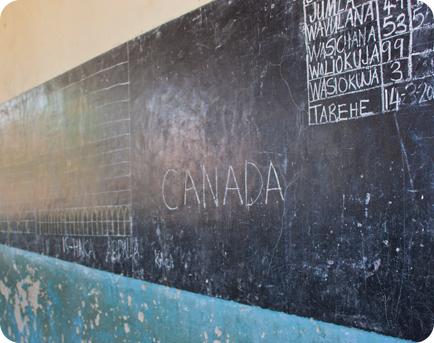 What does Canada mean to Tanzanians?
This is my fourth field visit with UNICEF, but my first to a country with political stability and no emergency. It may make our work seem less glamourous, but it is every bit as important to the children here.
While the needs of an emergency situation are stark, in a more stable setting those needs are often less obvious, and yet often sometimes more intractable. Take HIV for example. Things are getting better, yes, but still, 1.4 million Tanzanians are HIV positive and only one-third of the HIV positive children are receiving treatment.
Birth registration remains a problem. Only 8% of Tanzanians have a birth certificate – it costs $3 to get one – and not having a certificate limits your access to government services. Too many Tanzanians go hungry, and malnutrition and stunting remain too severe a problem. This is still amongst the poorest countries in the world.
But change is coming. I cannot help but remember that just 10 years ago treatment for HIV and AIDS was so expensive and complicated it seemed the pandemic would kill all of Africa. Now the prevalence rate is declining here, people are staying alive longer and raising their children and contributing to the community. It's not that there won't be other challenges – second line medications are expensive if resistance to the current medications grows, and our efforts to eliminate the transmission of the virus from mother to child to name just two – but the cost of keeping people alive is far less than the cost of letting them die. It wasn't that long ago that they said this much progress couldn't happen. They were wrong.
Support from governments and individuals around the world help make this change happen. But, I must say, it is hard for me to see how the money I give to UNICEF can be considered on a par with the phenomenal effort and hard work of colleagues and partners here. Well, maybe it is not on a par, but it is part of a partnership. For financial support from around the world is definitely part of what is happening here. Without the gifts we make to UNICEF this work would not be as strong as it is. Community health workers would not be as well trained and hospitals would not have as many supplies. Sanitation systems would be weaker. Local NGOs and government officials who are working for children's rights would not get as much support, and children's services would slip down the political agenda. Routine immunization programs would stop. More children would get AIDS.
So this partnership – financial support from Canada, monumental efforts from our colleagues here in Tanzania – changes lives. And that, I guess, is the beauty of this global relationship. Without the incredible efforts here, we in Canada could not be part of building a sustainable future for Tanzania's children. With it, we can change the world, all the way from the corridors of power in Dar Es Salaam to the forgotten villages of Zanzibar and Hai.
David's Field Blog:
One Year After the Famine - Now What?
Follow @DMorleyUNICEF
Categories:
Geographic Regions: