David's Blog: Becoming a Grandfather
I became a grandfather this week. A healthy little girl was born safely, although not without some bumps on the road, in a hospital 10 minutes from where I live.
And the birth of our granddaughter made me think back to the birth of her father, our son.
When my son was born, my wife and I were volunteering at a project in the shanty towns of Santo Domingo in the Dominican Republic. Her pregnancy was hard and we feared for her life, and for that of our baby. We wanted to come home to Canada's medical system, but we were trapped – for month after month, the risk of the plane ride home to Canada was greater than the risk of staying put with poor medical care. Finally, our doctor in Canada gave us the green light to fly home. Our son was born but he barely survived, even with all the medical care we had in Canada. If we hadn't been able to come home, I don't know if he or my wife would have lived.
Thankfully, I had a Canadian passport. We could come home to a medical system which is as good as any in the world. And it is just luck of the draw that I was born in Canada – just pure luck of the draw that meant I could fly home for our son to be born in Canada too.
Now, I cannot explain why my family gets to be healthy and why another does not – just because of where I happened to be born. But I do know that I cannot turn away from the children who need help the most. Just because a child lives in another part of the world, just because I may not know her name, or just because she is a different colour than me should not determine whether she lives or dies – so I cannot turn away. All of us here in Canada have immense power – we can make that choice not to turn away, but to act.
It is important to know that our actions – which power all that UNICEF and other development agencies do – are saving and transforming lives. More children are living to see their fifth birthday than ever before. More children have access to clean water than ever before. And more children are in school than ever before. It occurs to me that we are in the middle of a child survival revolution but we are hardly aware of it because bad news travels so much faster than good.
Being in the middle of this positive revolution is due in large measure to a remarkable global partnership. Each of us plays a role, whether we had the luck of the draw or not. From the village leaders, frontline workers and families working against incredible odds – to Canadians committed to a world without borders – we can ensure that every child (and grandchild) will survive and thrive in the years ahead.
I consider myself fortunate to do the work that I do. Every day at UNICEF Canada is suffused with meaning, and every supporter I meet is part of this global revolution for good.
Thank you for helping to create a world of possibilities for not only my granddaughter, but every child.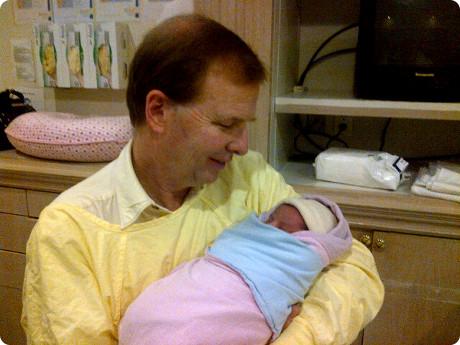 David Morley proudly holds his granddaughter Maria-Pia.
Categories:
Geographic Regions: