David's Blog from Ukraine: Kiev
I am astounded.
If I didn't know there was a conflict going on here in Ukraine, I would never guess it from Kiev. From the shiny new airport with no obvious military presence to the city streets bustling with pedestrians, cars and busses, Kiev seems to be a prosperous, peaceful city. But one of my UNICEF colleagues said that when you walk in the streets, everyone – from the shoppers and office workers to the women sweeping the streets – everyone is talking about the conflict.
While I cannot perceive it is clearly affecting the city and the country. More than 40,000 internally displaced people have reached Kiev – just some of the 600,000 people who have fled the conflict.
Services are stretched. Schools are receiving children, but since budgets haven't increased classrooms are getting crowded. Health systems were already weak – only half of the children are fully vaccinated and 1.5 million children have not been fully immunized against polio. Polio! A disease we are close to eradicating around the world and which risks coming back here in this middle-income country.
Displaced people don't live in big camps here, but with family, friends, or in small groups in rented accommodations. We went to deliver supplies – hygiene kits and early child development kits to some families in one of these buildings just outside of Kiev.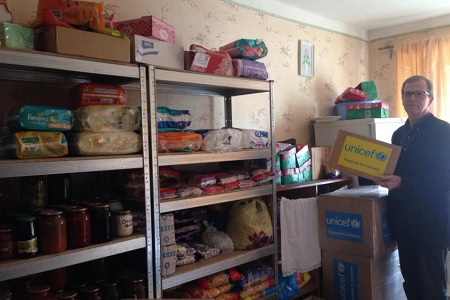 Delivering hygiene kits.
Conditions are good – the building is solid and the families have enough to eat – but the tension and pressure makes life uncertain and hard. They've been living here for months, and they don't know what is coming next. "We had our own home in Crimea," says Veronika (whose name has been changed at her request), who has three children, as she passes around cups of hot sweet tea. "When I'm asleep I dream I am back there and all is well – but every morning I wake up and here we are, living in a dorm. My husband was in Maidan, that's why we had to leave. He's working in another city now. We are just waiting. It's hard on the kids to wait. It's hard on us all."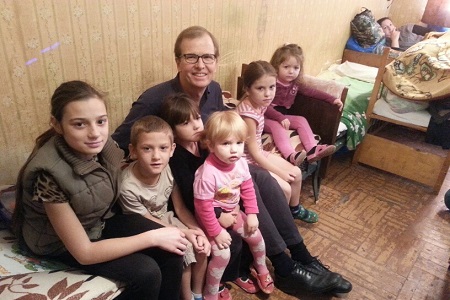 Psychosocial support is vital as many displaced children suffer from anxiety.
The biggest immediate concern for these families is heating. Winter is coming, when temperatures fall below freezing here in Kiev.
As word of the visitors grows, Veronika is joined by other mothers, each with a story to tell.
"My son is adopted. I've looked after him all my life. But if the Russian Federation takes over my town [she is from eastern Ukraine's border area] will they agree that he is my son or will they take him away and put him in a state orphanage?"
"We came all the way here three months ago, through many checkpoints," says another woman. "We went to Maidan and the volunteers there helped us find this place as a temporary home." Tears come to her eyes but her voice does not waver as her children gather round her protectively. "When I thought things were getting quieter I tried to go home but our town was destroyed. There was nothing there, so now we live here. What is next for us?"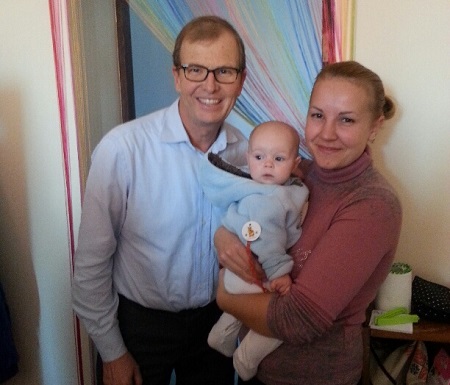 Meeting resilient families.
Ukraine has a social protection system, but like the health and education systems, it is severely stretched. The bureaucracy moves slowly, and it takes time for government help to reach these families and others like them. So our UNICEF colleagues work to help government ministries move faster, to advocate for more international response to provide vaccines for the health system, and offer community support like the supplies we have brought today.
But even so, the national sense of insecurity is mirrored in the lives of each of these families. What will the future bring? Should my child start school here, or should I try to go home? Can I find a job here? What if my child gets sick? Uncertainty clouds their future and makes it hard to plan beyond tomorrow.
"There are incredibly dramatic changes going on here," says Rudi Lichtman, our Deputy Representative here. "What we must do, is to make sure these changes do not hurt the most vulnerable, and that their needs are taken into account and addressed. That is all."
Tomorrow I will meet some of those most vulnerable young people as I travel farther east. Because tonight I'm on the night train to Zaporizhzhya. (I can't tell if that sounds like a blues song or a spy novel. We shall see).
Read more from David's visit to Ukraine:
Categories:
Geographic Regions: