David's blog from Ukraine: The Inferno
You go down some steps under the low rise apartment building – I think it must have been a service entry or something once – and you find yourself in a pitch black basement. The floor is uneven and you fear you will fall. You use your hands to steady yourself along the rough walls of the foundation, then up ahead you see some light – a few more steps and you are there. Dante's first circle of hell.
I can't tell if the room is smoky or it's just a lot of concrete dust in the air, but I can see the three teenaged kids in the tiny room. A solitary lightbulb lights their refuge – I can't call it a home, but it is a refuge of sorts. There's one bed and one chair and a pile of rubble. Hell, what do I know – maybe it is a home after all.
"The neighbours up there," the boy with the Beatle's mop top motions to the outside world, "they let us do odd jobs for them, then they give us soup or vermicelli."
His friend is quieter. "I just want to have a family," he says wistfully. But mop-top cuts him off, anger in his eyes. "Why? Why do you want that." He shakes his head. "Family is no good."
There is a girl living there too. The kids are about 15 or 16. I ask her how she came to be here. She looks at me then says quietly. "My stepfather." She didn't have to say anything else.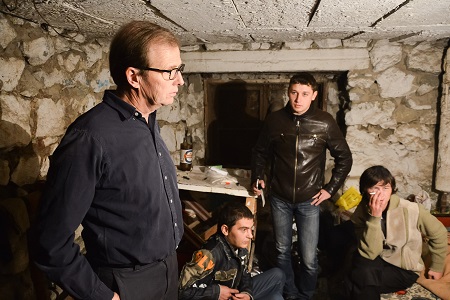 Meeting young people in The Inferno.
We'd come here with an outreach worker from one of our partners here in Zaporizhzhya, the local branch of the "Network of People Living with HIV." The girl had gone to the Youth Friendly Clinic a few weeks ago but hadn't gone back for her follow up tests. We wanted to be sure she could find out her status so she could get treatment – and other help, if needed.
The conflict has brought about big cuts to government services and in May two-thirds of the government's social workers were let go. Lena manages this program, and there is anger and frustration in her voice. "When will the government find the money to help these people. They are completely outside the system. Lots of people in the government don't want to admit we have street kids like this here – and look where they live – hidden in the basement or in abandoned children. They stay hidden. They say out of sight. If you are inside the system, you can get help, but these kids are outside."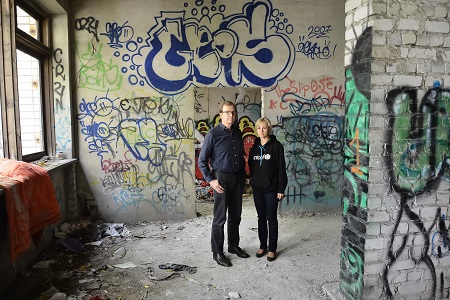 Here am I with Lena. Usually we work with young children, but we can't ignore youths who have fallen into hard drugs in places like this.
So we are working, in our way, to change the system. We've brought a colleague from the Ministry of Health with us. Her determination is as strong as Lena's. "I wish our Health Minister could meet these youngsters. That would help things change."
It's time to go. We leave the three kids in their hiding home, and clamber back out of this little slice of hell. We go to a local pizza place to grab a bite of lunch, and I feel disoriented, with a bit of culture shock, as Michael Jackson blares over the sound system.
Things have to change here. Ukraine has the highest rate of new HIV infections in Europe. This pilot project brings NGOs who work with street youth and sex workers together with the Ministry of Health to provide peer support, counseling and medical services for these youngsters and many more like them. It's a different kind of social service model for Ukraine's forgotten teenagers, and these people making it happen are very impressive. So this project has to work. If it works here, if we can get more money, it can be a model for other cities in Ukraine. We have to make things better. We have to make it work. These teenagers are just kids. They're all our kids.
Read more from David's visit to Ukraine.
Categories:
Geographic Regions: