David's Blog: Haiti's Health
I have been lucky enough to visit nutrition centres around the world, but I have never seen one as bright, clean and well-organized as the one at St-Damien Hospital this morning. The ward was not over-crowded, there were enough nurses, and each of the cribs only had one child in it. It was lovely. The staff at St-Damien treated more than 1,000 malnourished children last year – 400 of those youngsters had complications and came here to the in-pateint ward.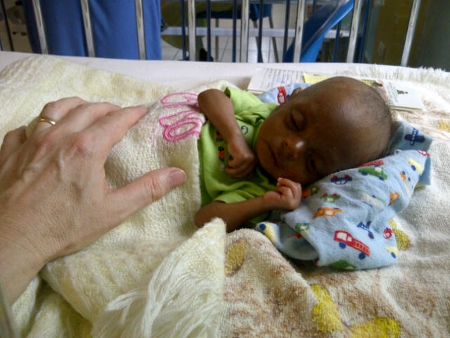 This little one is named Justin. No matter how good the care may be, I fear for his life.
It is easy to see hope in this wonderful operation, but I wonder if sometimes I look too hard for hope because otherwise the unbearable sadness before me is too much to bear. Justin. He is four months old, and he is tiny. He opens his eyes, but they do not see. His mother sits beside him, listless, sad, broken-hearted, because, I tell you, I think there is no way this little boy can live. Too many children in this bright and well-cared for ward who will die too early in life – they have not had enough to eat and they will die from a lack of nutrients, or TB, or diarrhea. And no matter how good this ward is, no matter excellent the care he will receive here, too many of these children will die because they happened to be born in the wrong country – that is what killed them – in a country where too many babies die.
But we have to keep going; we cannot succumb to despair. At another hospital we see an immunization campaign. UNICEF is the world's largest procurer of vaccines and we are supporting the Ministry of Health is they run a national vaccination program which aims to vaccinate 2.5 million children against measles, mumps and rubella together – this week. "The logistics are incredible," Mariana explained. "Awareness-raising through mass communication; mobilization of community agencies; getting supplies out to health posts; then mobilizing the cold chain and getting the cold vaccines to the ministry staff who will administer them. It is impressive."
As we watch the vaccines being given, we are reminded of the heartbreak of this country yet again, when a woman with a baby in her arms rushes up to our little group and asks if we will take her baby. How desperate can you be if you are willing to give up your child? Or is it a scam of some kind – a trap to extort money from foreigners? No matter what, it is a stark reminder both of how desperate some people are and also why our work in child protection and ensuring safe and honest and transparent international adoptions is so critical.
As I think on this visit to Haiti, I think that the sceptics' complaints should NOT be about what has been done since the earthquake, because the collective efforts of the international community and the people of Haiti over the past 27 months have been successful. Together we have kept 1.5 million homeless people alive and even improved their health. Now 1 million of those people have found a better place to live. Schools have been rebuilt, and with the leadership of the Haitian government more children are in school now than when the earthquake hit.
No, our work since the earthquake has been good. The complaint should rather be about how this country got in this condition in the first place – the culprits are many – the government of France demanding and collecting reparations for more than a century after Haiti's independence; the Americans for occupying the country early in the twentieth century; all the west for supporting successive dictatorships, and the so-called 'republic of NGOs' which was unable to improve the national standards during the past 40 years of political turmoil – but the results have been clear: the highest child mortality and lowest education levels in our hemisphere, and more than a quarter million children working in domestic servitude. All our efforts in the past 40 years have not been able to improve those numbers.
This is what we have climbed back to. 27 months of hard work by hundreds of thousands of people, overwhelmingly the efforts of the Haitian people themselves, have succeeded in bringing the city of Port-au-Prince back to where it was when the earthquake struck – and given the fact that this has been done in a city the size of Toronto, on a budget equal to 5 months of Toronto's operating budget, well, that is little short of miraculous. Now we need to build on the momentum created by this massive effort, support the leadership of the new government, help the grass-roots groups' voices and experiences be heard, and help those Haitians – and there are many - who want to transform their country.
So I end up optimistic once again. Optimistic in the big numbers and the direction we are going, but fearful that it will be too little, too late, for Justin lying so still back in the malnutrition ward.
David's Field Blog:
One Year After the Famine - Now What?
Follow @DMorleyUNICEF
Categories:
Geographic Regions: