David's Blog: Healthcare in Zanzibar
By David Morley
President and CEO, UNICEF Canada
March 13, 2012 - Zanzibar, Tanzania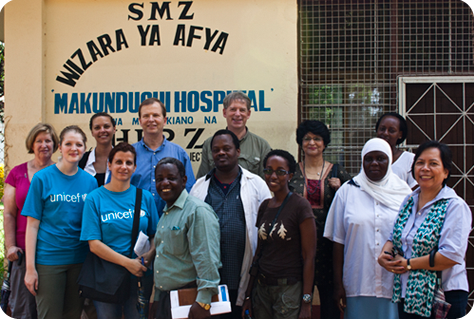 The UNICEF team meets dedicated CORPS volunteers outside of the Makundushi Hospital in Tanzania.
I have grown used to disappointing people about my name, and yesterday was no different. When I met Dr. Suhba, our Head of Health here in Tanzania she was effusive. "I have so wanted to meet you, I have read all of your books," she said. Then puzzled, "but you are much younger than I expected…" And before she could get any further, I helped her out.
"I'm not that David Morley," I said.
Dr. David Morley, not me, was a pioneer in global public health. Oral Rehydration Therapy, popularizing the measurement of a child's bicep as a test for malnutrition, encouraging investment in rural clinics – on many fronts he built the foundations for public health in the developing world. That is why, on first meeting, I have grown used to disappointing health professionals in the global south, as I have to let them know that I am not him.
What was not disappointing was seeing the Zanzibari Health System at work. At the community level there are the CORPS. These are community volunteers who, after receiving training from us, become the primary health care providers in their villages. In one little village – low ochre mud-brick houses huddled together along a main street; a teenager cooking groundnuts over an open fire while younger children play in a deserted home – they introduced some of their patients. One hut was home to a mother whose child had a low birth weight; in the village square – a plot of dust – we met a woman whose daughter had died during childbirth and was now being cared for by her grandmother.
"It's hard – so many babies are born small that everyone assumes it is normal," Eliphas, our Health Promoter said. "But we know that a low birth weight and lack of nutrition in the first two years of life causes stunting, and that has life-long implications." This is what the CORPS volunteers are battling – as they grow, children who suffer from stunting are less likely to complete school, less able to work, and earn almost a quarter less than other, healthier babies. And 4 out of 10 children in Tanzania are stunted. By providing nutritional supplements and post-natal support in the village, the CORPS volunteers are battling stunting and saving lives.
New technology extends their work further. Android cell phones with a special health app mean that community health workers in remote, poor villages can enter data about their patients direct to the district health post, and when a patient has complications the diagnosis and treatment suggestions are sent back to the volunteer's phone. "It makes our work better – we get information faster so we can respond more quickly to the needs of the children. We are piloting this now, the app is only for maternal and newborn child health, but if it helps as much as we think it will we will use this for other branches of healthcare, too."
Gathering data this way also saves money on health surveys, because we are getting real-time information about our patients, and the health system here will be able to respond faster to emerging health trends. I can't help but think about the sorry state of electronic health records back in Ontario.
But please don't think all is well here in Zanzibar. About 4.5% of the children are severely malnourished, and I cannot understand how this is possible in this lush place – although the low status of women certainly is a major cause. The major hospital in Stonetown is nearly 100 years old. Sometimes three patients must share a bed and it is, in a word, dirty. (It reminds me of what a Dominican friend told me thirty years ago – "We don't go the hospital to get better. We go to the hospital to die.") But the volunteer community health workers with their cell phones and bag of medical responses that save children's lives are hopeful pointers to the future.
I think that David Morley would be pleased.
David's Field Blog:
One Year After the Famine - Now What?
Follow @DMorleyUNICEF
Categories:
Geographic Regions: