David's Blog: Mtopepo School
By David Morley
President and CEO, UNICEF Canada
March 13, 2012 - Tanzania
The economy is growing here – 6.5% is the projection this year. Foreign investment is pouring in – Canadian, Chinese, American – and people are leaving the rural areas and moving to the city. Dar Es Salaam is one of the world's 10 fastest growing urban areas and Stonetown on Zanzibar, while smaller, is growing at a fair clip, too. Twenty years ago Mtopepo primary school was built with a capacity of 600 students. But as more and more people left the countryside to seek economic opportunities in the city, enrolment grew. Ten years ago, when Tanzania abolished primary school fees, they had to add a second shift of students; three years ago a high school started; and today there are more than 7,000 students in the school.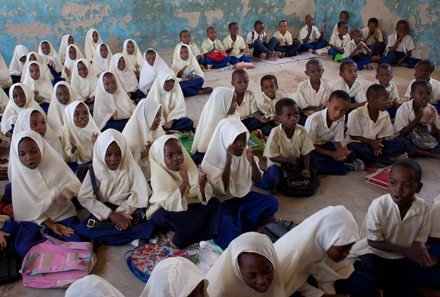 Education is valued here. It is not like some places I've worked where our community extension workers have to convince parents of first generation school learners that literacy and numeracy are useful skills. But it is hard to imagine how any but the brightest students will learn in this school. The average class size is 80. There are no desks in the primary school – but heck, I cannot imagine how there would be enough space for them – and the children sit on mats and there is almost no room to move around. All the desks in the school are for the high school students. The teachers try their best; there is a strong administration; and active PTA, environment and HIV clubs. And, just as convenience and candy stores are often found near schools at home, outside the schoolyard gates street vendors selling Chiclets and fresh fruit gather at 1:00 in the afternoon when the school shifts change.
We want to help in this school. But there are schools like this all over the country, and so deciding how to intervene is part of the balancing act we must do. We could pour resources into this particular school – it could be rebuilt, and probably be as wonderful as it was back when it opened in 1991. But then what about other neighbourhoods here in Stonetown, in Dar, in other parts of the country where the need is just a great? That is why we work at the national system level – 'upstream', as we like to say – at the Teachers' Colleges and through in-service teacher training and with school councils to help improve school management.
The economy here will continue to grow. But economic growth by itself will not bring about social development, so we must harness this growth to help sustain local social services. Managed properly, growth will increase the tax revenue and make it possible for the government to pay for the schooling and healthcare which, in turn, make the local economy stronger.
This is our struggle: creating a virtuous sustaining spiral of social development which benefits all. This is why we are investing in health and education and immunization and birth registration and child protection – both at the community level and at the national level as well, and why we must support government efforts to make these stronger, too.
A local leader said to me this morning, "The thing about UNICEF is that you work in the smallest communities and you make sure our teachers and nurses and doctors and police are all better, too." We will do this at Mtopepo School. We do have some funds for individual school rehabilitation, and we will work with the administration to make the school building better. We cannot spend time here with these dedicated teachers and eager students and do anything less.
David's Field Blog:
One Year After the Famine - Now What?
Follow @DMorleyUNICEF
Categories:
Geographic Regions: