David's Blog: Progress in Haiti
By David Morley
President and CEO, UNICEF Canada
Logbase once again: the collection of cargo containers converted into portable offices which replaced the office building which collapsed and killed all the UN leadership in the earthquake 27 months ago. I was delighted to be greeted by the welcoming smile of a friend, Stefano, our new Deputy Country Rep. Stefano and I had worked together a few years ago; he was the head of MSF Italy when I was running MSF Canada.
Stefano has been here since January. "The major donors are scaling down their contributions," he told us, "but now that we are in the post-emergency phase we still need support to keep the work going. If we lose resources in the coming months we will lose the momentum we are seeing in education, in health and in child protection.
"We are working on two levels here. One is service delivery – making children's services better. But we are also working with the government so that they will take more control and leadership and make a commitment to these services, and making laws which can be enforced and which will help children."
Stefano paused and smiled a rueful smile. "Think of our own countries – changing laws takes time." Yes, I thought, but it is one of the foundations for building a better society for children. And, in a case of particular importance for us, we now need to work with the government to turn their signing of the Hague Convention on International Adoption into local enforceable law – an important step in our efforts to stop child trafficking.
Leaving logbase the streets of Port-au-Prince are as chaotic as ever, but more rubble has been removed and signs of reconstruction abound. It is slow; it is painstaking in this crowded, mountainous city cleft by countless ravines, but it is happening.
Fewer than half a million people are still in the tent cities – still far too many, but well down from the 1.5 million in the months immediately following the earthquake. As funds decrease the international NGOs are cutting back, and that puts the sustainability of our efforts at risk. And those efforts have been particularly strong in education – we distributed 1.5 million school kits last fall, and plan to do the same this year. It's a huge campaign, involving communications and awareness-raising, coordination with the Ministry of Education, logistics to get the kits (they're like the Literacy Pack in our Survival Gifts out and around the country.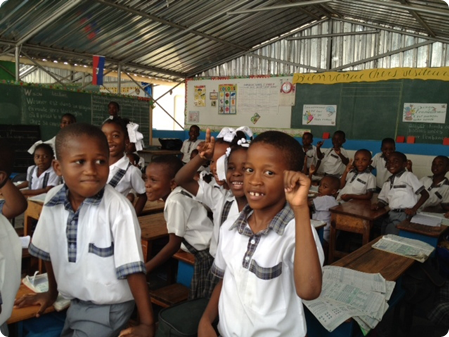 At a neighbourhood school we were greeted by clean and bright-spirited children who chatted with us about their hopes and dreams for the future, and we were challenged, too. "Why did you only come here after the earthquake" one girl asked me – in front of her whole class. I explained that we had been here for many years, helping schools around the country, but because the earthquake was the worst disaster in the world, they would have seen more foreigners recently. Their school had been destroyed in the earthquake; we helped rebuild it – one of nearly 200 earthquake-resistant schools we've rebuilt here in the capital.
The transition from humanitarian response to long-term development is taking place; I can see it happening. Our efforts at improving municipal sanitation are a sign of this – but our plans to visit the country's only sewage treatment plant this afternoon were thwarted by a series of road blockades and barricades of burning tires – the police force is on a 30-hour strike protesting the cover-up of a murder of one of their colleagues – so we are forced to turn back twice and make our way back up the mountain to our hotel, and hope that we will get another chance tomorrow to learn more about the next steps forward by the people of Haiti.
Categories:
Geographic Regions: