David's Blog: The Golden Poo Award
By David Morley
President and CEO, UNICEF Canada
March 15, 2012 - Tanzania
While Tanzania has improved primary school enrollment, there are still issues in high school. At Mtopepo School, for example, there are slightly more girls than boys in the primary school, but by high school there are twice as many boys as girls. Girls who complete high school are 10 times less likely to become teen mothers, so we need to look at every obstacle to their completing school.
One of those obstacles is sanitation. There aren't enough latrines in schools, and those that do exist are often in terrible condition: there is no privacy, doors are off their hinges or, when the latrine buildings are made from straw, they are falling apart. The latrine pits are often unsanitary or overflowing. Girls say this lack of privacy and sanitation is a major reason they stop going to school as they get older. The problem with sanitation is not confined to the schools – all over the country only about one in ten people has improved sanitation.
I learned these statistics, and more, in the UNICEF office in Dar Es Salaam when I was briefed by Omar El Hattab, our Head of Sanitation, and Rebecca Budimu, a Sanitation Specialist. "It is crazy," said Omar. "Seventy percent of the health budget is used to treat water and sanitation illnesses like diarrhea. Good latrines and proper hand-washing would make a huge difference here."
The statistics for sanitation facilities in schools tell an unsanitary story. In schools across the country there are more than 50 children per latrine. Half of the girls' latrines don't have doors, only 10% of schools have handwashing facilities (like they do at Mtopepe) but almost none have soap (which they don't at Mtopepe).
"It's a double problem," Omar went on. "Naturally enough schools want to put money into teachers and books before sanitation, but no one was taking responsibility for this situation, which just made it worse. But now the Ministry of Education has said they will take responsibility, and so we are working with them to develop a timetable to get good sanitation in schools across the country."
We have been advocating with the Ministry of Health, too, and they are making Water, Sanitation and Hygiene the second priority for their development plans, after Maternal and Newborn Child Health.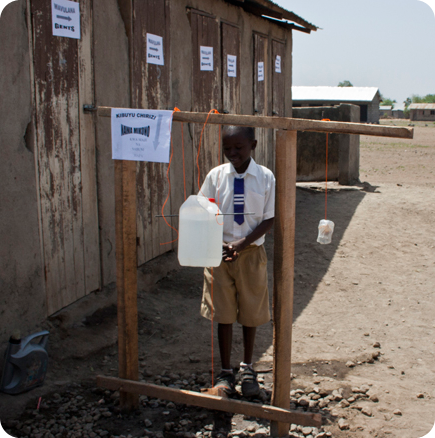 A student uses a water station to wash his hands.
Helping people change their behavior is important, too. Most households have soap, but they use it for laundry, not handwashing. Rebecca and our team have developed a training program that includes community awareness and education and this will be run through the schools and with the volunteer Community Health Workers. There are puppets and games, and, on National Handwashing Day, handwashing festivals and parades. It's a serious subject, but they make it fun. "We are targeting children because in ten years they will be the household leaders," she told me.
"And guess what," added Omar "Rebecca won a Golden Poo for her work."
The Golden Poo for Hygiene and Sanitation is a global award that recognizes outstanding contribution to sanitation efforts. Rebecca was awarded this in 2009 for developing training materials that raise awareness and build capacity at the community level.
"Don't say that," said Rebecca, "I'm embarrassed by the award." I thought it might be because of the name 'Golden Poo,' but clearly, that is not a problem for someone who has made sanitation her life's work.
"I'm embarrassed because we haven't done better. Listen to those statistics Omar told you – they are terrible. We need to do better and make sure there are better sanitation facilities for every child. These save lives. We have to do it."
So Rebecca and Omar will continue their decidedly unglamourous efforts to bring latrines and handwashing to the forefront of people's awareness, and in so doing, make a profound difference in the lives of Tanzania's children.
David's Field Blog:
One Year After the Famine - Now What?
Follow @DMorleyUNICEF
Categories:
Geographic Regions: