David's Blog: The New Africa
By David Morley
President and CEO, UNICEF Canada
March 16, 2012 - Tanzania
Hai District gives you a glimpse of the new Africa. Agriculture thrives in the fertile soil around the foot of Mount Kilimanjaro, and a service economy and light industry has developed in the small city of Moshi along with the tourist trade. Men and women work the red soil, cement block houses dot the landscape, and solid local government helps ensure that services are delivered.
Now, I don't want to give the impression that Hai is an earthly paradise, although the lush land, prosperous villages and occasional glimpses of Kilimanjaro through the clouds may give that impression. It is afflicted with all the problems of a developing economy, but people here are addressing those challenges head on.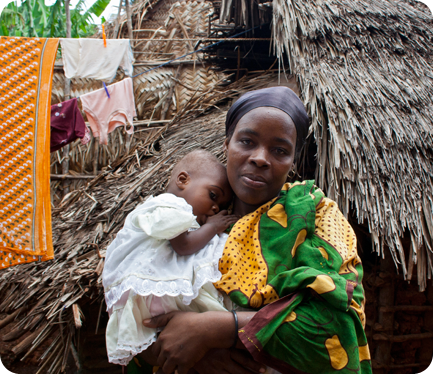 The CORPS volunteer community health workers have been in operation for a decade, and their remit is much broader than what I saw on Zanzibar. As well as maternal and newborn health these community volunteers help parents offer intellectual stimulation to pre-schoolers, give information on sanitation, and have distributed wind-up radios to all clinics and villages. We've trained local artisans to build inexpensive latrines and they make a living doing so. Text messaging alerts communities when an immunization campaign is coming. Children and parents remember which vaccinations they have by where they got it – TB and tetanus in the left shoulder; measles in the left leg, typhoid in the right and polio and Vitamin A by mouth. It makes for a much easier way to remember what shots you've got.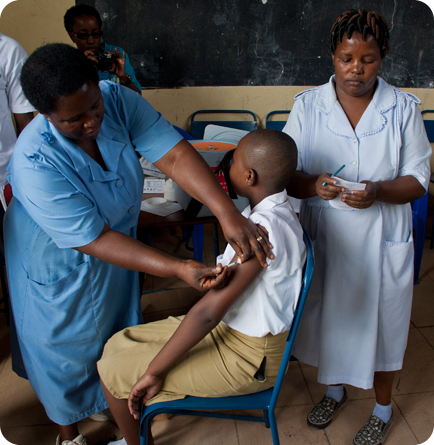 And then there is the hospital. The Hai hospital is clean and well-run. HIV services are integrated into the hospital as a matter of course, and, once again, android cell phone apps speed up the time when patients receive the results of their lab tests.
The District is at the forefront of child protection, too. UNICEF co-authored a study that found unacceptably high levels of violence against children here and showed the need for a child protection system. The leaders of Hai District have taken this to heart – they are one of the first districts in the country to put Child Protection in their budget. The local magistrate holds special child-friendly court sessions so that when victims of violence and abuse want to bring a case to trial they can do so in less-intimidating surroundings. The Police Station is building a special child-friendly room and we have trained police officers – including a remarkable woman named Corporal Happiness – on how to care and protect children who have been traumatized by violence. They are doing such a good job that Dorothy Rozga, our Tanzania Country Representative, is arranging for a delegation from Cambodia to come here and learn how to set up their own child protection system at a local level.
We have provided a lot of training and supplies, but the people here in Hai have made the commitment and are doing the ongoing hard work. "We know you will be leaving," the Hai District Executive Director said, "so we are already putting provisions in our budget to maintain these activities without UNICEF."
Dorothy nodded in agreement and replied, "There are many other places in the country where children don't have what they have here. We have to help them, too."
There is nothing out of the ordinary about Hai – you flash by it on your way to a safari or to climb the mountain – it's just that this is what Africa's future can look like, if we all choose it.
David's Field Blog:
One Year After the Famine - Now What?
Follow @DMorleyUNICEF
Categories:
Geographic Regions: