David's Blog: Time for a Change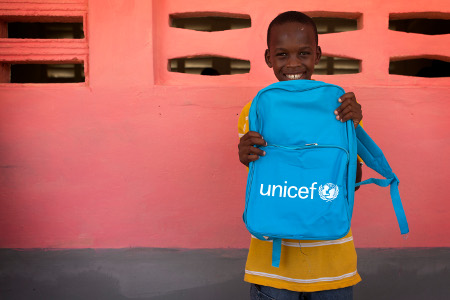 By David Morley
President and CEO, UNICEF Canada
The stormy weather turned many roads in the city into lagoons, and this, combined with the police demonstrations, meant that the places we had planned to visit were off limits. I had hoped to go to Bel Air – a tough neighbourhood next to downtown where I had met a great education group before the earthquake – but that became impossible. So Mariana called around to various colleagues and local partners to see where there might be a Child-Friendly Space that was not cut off from where we were. Finally, after a bouncy drive through a labyrinth of pot-holed back roads, over gravel and through water, much to my surprise and delight at the end of the drive, I saw Gilet Maxcene once again.
Gilet and his friends are the kind of young leaders Haiti needs – and Haiti is producing them, too. They are a group of twenty-somethings who formed a local group and are now running three 3 Child-Friendly Spaces (a combination after-school program and Boys and Girls Club) where, in a UNICEF tent in a vacant lot, children can play, learn, and, despite the harsh realities of their lives, just be children. They have gathered a group of neighbourhood volunteers who help. There's a group of local teenagers with time on their hands who they trained to run activities, one of the camp managers from a small tent city nearby does music with the children and some parents sell artwork (to foreigners like us, if possible) and raise money to buy supplies.
I first met Gilet last falI at one of the other centres run by his group, and the volunteer work he and his friends do filled me with hope for Haiti's future. "Doing this work in the community," he told me then, "is our duty to our country."
Haiti is filled with young community leaders like Gilet. This means that for us as foreigners the time is long past when we need to stop being just the do-ers ourselves and instead support their efforts to change the country. But it mustn't stop at the gross-rotos. We need to support and strengthen the government's social service ministries as well. The President has ambitious goals to get every Haitian child into school, people in the Ministry of Health want to reach full immunization, the Department of Sanitation now has – for the first time ever – a sewage treatment plant for this city of 3 million. We are helping the government in each of these areas – with supplies, with technical assistance, and with the kind of training that will let them lead these efforts after the international community has left.
Outsiders cannot just sit by and complain about the government – that is the easy way out – we need to see how we can help it work better instead. That is something UNICEF can do, and, here in Haiti, we are doing well. It isn't perfect, and it is a lot harder than the massive relief effort which saved lives and relieved the suffering of more than a million people over the past two years. This next stage in development is harder, it is not as media-friendly and it will be filled with false starts and dead ends. But if we do not try it, if we do not support those Haitians who want to build their country - from government ministries to grass-roots groups like Gilet and his friends – we will have left our job undone. Haiti is nearing a tipping point. There is a chance for a better future. Just because it is getting back to normal, just because the truly heavy lifting is getting underway, we must not stop now.
David's Field Blog:
One Year After the Famine - Now What?
Follow @DMorleyUNICEF