David's Blog: When it comes to saving lives, two is better than one
DEHLI - It reminded me a bit of a Mad Men episode. We were sitting around a table, looking at promotional materials: a short TV spot, stickers to go on windows, flyers and a brightly coloured mobile to hang by a cash register. They all had the same message: two is better than one. Oral rehydration salts (ORS) and zinc tablets are better for treating diarrhea than just ORS alone.
We have known for many years that ORS is an excellent treatment for dehydration from diarrhea. When studies showed that adding a course of zinc to ORS was even more effective at treating diarrhea, UNICEF and the World Health Organization included the dual therapy in its treatment guidelines – the accepted standard for treating this disease around the world. But here in India, where diarrhea kills nearly 700 children a day, only 2% of the children under five are treated with ORS and zinc. Our meeting today was part of the battle plan to change that number.
As part of the UN, UNICEF saves more children's lives than any other humanitarian organization in the world. And since diarrhea is a major killer of children, and one we know how to prevent, we have to act. That is why we were looking at these social marketing ideas – to learn how we can increase the demand for ORS and zinc.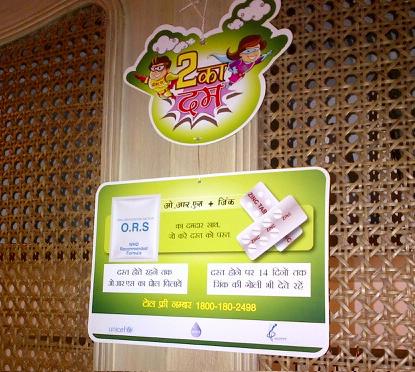 To help us tackle this problem, we have partnered with Teck Resources, a mining company based in Vancouver. Last night, at the Canadian High Commission here in Delhi, Teck announced that they have committed money to help UNICEF improve the supply of ORS and zinc; increase the demand through social marketing; educate community health workers and parents in three of the poorest states in India; and advocate with community leaders and professional associations to encourage the widespread adoption of ORS and zinc in the country.
"We know that clean water and improved sanitation is important to eliminating diarrhea," says Doug Horswill, a VP at Teck. "But it will take years for that to happen, and in the meantime we want to help increase the use of zinc because we know that zinc saves kids."
Now, some people question why charities work with mining companies. To me the answer is clear. Business activities affect people's lives, so when a business takes action to be more socially responsible, we should be supportive of this and of the example it sets for other companies.
"This money from Teck will fund programs like our social marketing, our training and our education; it will help free up bottlenecks so the medicine reaches remote villages. This money will save the lives of 150,000 children," says Genevieve Begkoyian, our Chief of Health here in India. As far as I am concerned, that is 150,000 good reasons for us to work with Teck.
I plan to come back here in the fall. When I do, I look forward to seeing the flyers and marketing I saw in our office today out in the streets, on radio and TV. I also hope we will start to see an increase in the number of sick children getting ORS AND zinc – because when you are fighting diarrhea, two is better than one.
Categories:
Geographic Regions: