David's Field Blog: Child Friendly Spaces
By David Morley
President and CEO, UNICEF Canada

HAITI, October 24, 2011.

Here is Haiti's hope.
Here is Haiti's future.
In a rocky little vacant lot, down a dusty side street off the busy thoroughfare of Delmas, I saw the most exciting, optimistic thing I have seen in all my trips here since the earthquake. In this unassuming place I saw the kind of community engagement and involvement that will heal and rebuild this country.
We call it a Child Friendly Space – a cross between a daycare centre and an after school program - although many of the children at this one (like half the children in the country) don't go to school. Someone in the Delmas 60 neighbourhood has let the community youth group VJA use this little plot of land to make a safe space for children.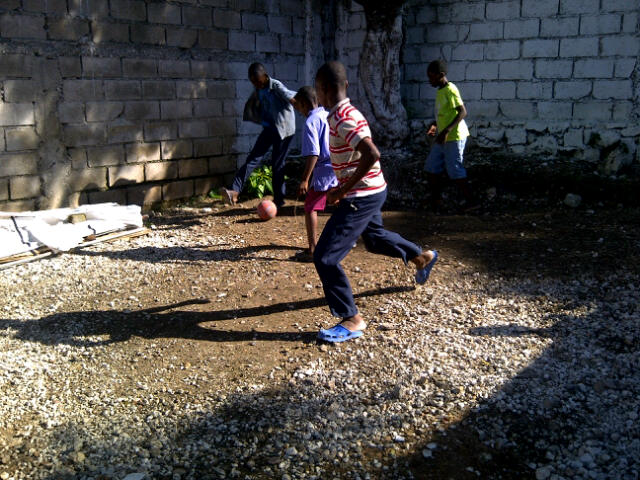 At this child friendly space, we see Haiti's hope for the future.
I liked the activities the children were doing: singing, rapping, laughing and dancing in a hot UNICEF tent or playing soccer in the stony area in front of the tent. The boys playing soccer didn't have enough shoes between them so they would take turns sharing shoes so everyone could play.
But what impressed me beyond words was the poise and the commitment of the group of young Haitians, all in their twenties, whose commitment is making this happen. Gilet Maxcene is one of them. He is a slight young man, with a warm smile. This is his neighbourhood. He and his friends started VJA in 2008, "Because this is our way to help build our country." They have two little play centres like this one, and they are all staffed by young volunteers who like working with children. And clearly, from the laughter and singing around me, the children like it too.
"These children have so little," Gilet told me. "We don't have much either, but we can give of ourselves. And if we don't, well, these kids would be in real trouble. We have two Child Friendly Spaces now, and we want to reach more children, street children, too."
All of the children and the volunteers are from the Delmas 60 neighbourhood; many of them are still living in Petionville Club, the golf course which has turned into a tent city. But Gilet and his friends running the Child Friendly Space don't make a big deal of it. They are here because they want to do what they can to help the children of their neighbourhood have a better chance in life, that's all.
"All around the country local groups like these guys are providing enriched learning and safe place for about 100,000 children." says Jean Mar, our Child Protection Officer. "We provide some materials, like the tent and some of the toys. We also spend a lot of time training the leaders in subjects from children's rights to cholera prevention and child development."
If many of the Child Friendly Spaces have the spirit and energy of this one, then that is good news indeed. "This is our duty to our country," says Gilet, smiling at the noise coming out of the tent from the children's talent show. "But we better get in and watch them; they've started to performing for you."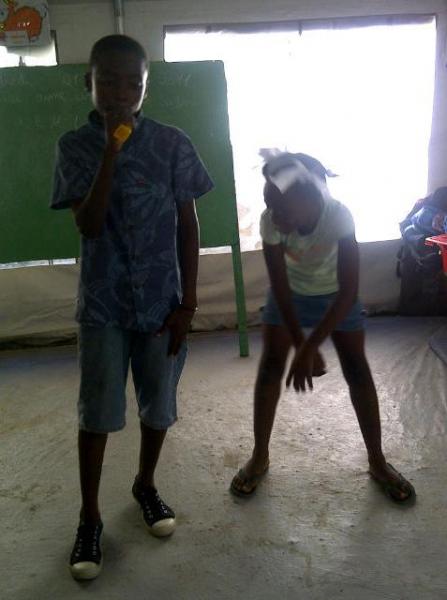 Young performers at a child friendly space.
After the performance is over and we get back in our car, I am smiling. This is what I was looking for – this is more than I was looking for – this combination of committed Haitian youth working to make their community better, and a place where some of this country's poorest children can play and be children in safety and peace. What more can we want?
Categories:
Geographic Regions: