David's Field Blog: Creating a better Haiti for Kathleen
By David Morley
President and CEO, UNICEF Canada
HAITI, October 25, 2011.

The streets and alleyways of Port-au-Prince are bustling. People sell by the roadside, with products ranging from knick-knacks and handicrafts in the touristy areas, to furniture, clothes and beauty supplies in the working-class neighbourhoods. A few blocks away, across from a small tent city, men break up rubble by hand in the stifling heat and extract the bent iron rods to sell. I've heard that some of the rubble is being pulverized and then recycled as a component in new cement.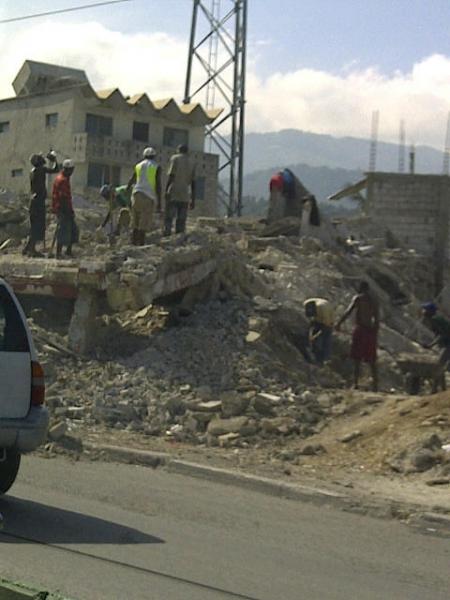 Clearing goes on every day - when it is done by hand it is very hard work.
It is easy to criticize the slow pace of rubble removal and reconstruction. But remember, the pace of rubble removal has been the same as the pace to remove the rubble from the World Trade Centre, and when loved ones are still in the ruins, it takes longer. And the economic impact of the earthquake was horrendous – in 45 seconds, the poorest country in the Americas lost the equivalent of one full year's Gross Domestic Product. No other country in recorded history has ever suffered a loss like that.
But yesterday we were at a school we've rebuilt. The classrooms are breezy and cool and earthquake-resistant. And, as Marie Ginette, the first female Haitian engineer I've met, said, "Even though we call them semi-permanent, they will last for a generation – and the children aren't afraid to be in them because the roof is not made of cement."
All the schools – the public, the community, the private – which were open before the earthquake are functioning again. But remember, that isn't enough. Approximately 15% of Haitian children go to public school; 35% go to non-public schools, and 50% are out of school. We are working with the government on a five year plan to make primary education free and accessible to all Haitian children – which would be the revolution this country needs.
"But how will the government pay for it?" I asked.
"There will be two taxes to pay for education – one on incoming long distance calls and another on payments from abroad. That is a way to make this sustainable."
Over in Tabarre, a tent city not far from the airport, we played games at another Child Friendly Space with another fantastic group of young volunteers trying to make something better for the children in their community. At the University Hospital, we saw Haitian nurses care for malnourished children at a Nutrition Centre. And at converted house, we met with a Haitian group providing street children with foster homes and helping parents get back on their feet. We see yet again the key element for sustainability: remarkable Haitians working hard to care for their children and community, and striving to make their country better.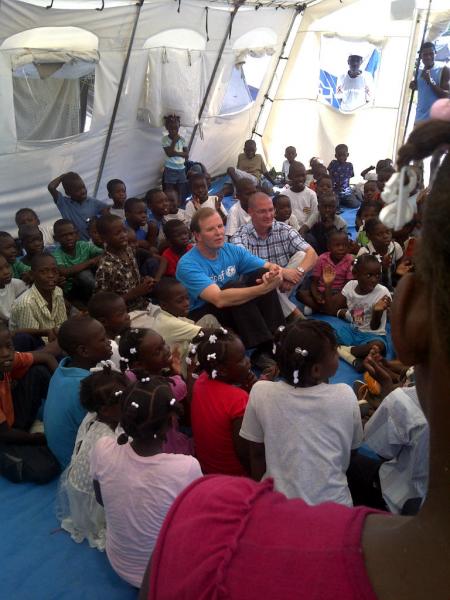 Me, Patrick (from Tim Hortons) and a group of spirited kids. This was just before they chased us in a game similar to Duck Duck Goose.

Our work here is to see how we can support the efforts of all these people – from government officials to playgroup monitors in tent cities – build the Haiti they dream of for children. That means working to build better systems for child welfare, health and education with the government and training community members on children rights and development.
And then there is Kathleen. She was two months old and almost dead when she came to the Nutrition Centre at the Hospital, and the staff there nursed her back to health. But her parents are gone and now she is living in the ward because no one has come to claim her. The nurses feed her and play with her, but it has been four months now. She is healthy, but she has nowhere to go. We will make the connections and our Child Protection people will make sure she is cared for in one of the good local orphanages. (I haven't even mentioned our work to regulate and improve the local orphanages, and our efforts to regulate international adoptions.) But I cannot imagine the desperation – and love – that would have led her mother to give birth and then leave her at the hospital because there, at least, she just might have a chance.
When I was here two years ago I caught the whiff of optimism in the air. Now, with half the rubble removed, with two-thirds of the people having left the tent cities, with a government finally in place, I can start to sense that faint scent of optimism once again. But Kathleen reminds me just how far there is to go here – and she also reminds me exactly why we must keep going.
Categories:
Geographic Regions: