David's Field Blog: Tackling Malnutrition in Burkina Faso
Ouagadougou, Burkina Faso: I like Burkina Faso. I like the people I've worked with here over the years – committed to improving the lot of children in this small land-locked country in West Africa.
But things are hard here. It is one of the world's poorest countries, and although Burkina Faso itself is stable, its neighbours have had internal problems, which makes geopolitical life harder for Burkinabés.
Our programs in Burkina Faso have been focusing on improving health and nutrition services for children; helping government and private agencies care for the neediest children – working children, street children – and improving the quality of education by developing a "child-friendly school" model for the government and finding ways to reach children who have either dropped out of school, or older children who never had the chance to start.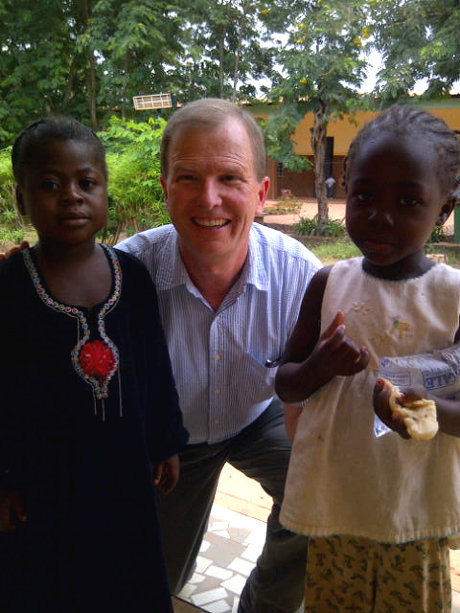 David Morley, President and CEO of UNICEF Canada, poses with two children at a health centre in Burkina Faso.
Those were our areas of focus – and then came the drought. Poor rains led to a poor harvest. Across the Sahel – this semi-arid band stretching from Senegal and Mauritania to Chad and Cameroon with Burkina Faso in the middle – hunger rose and now more than one million children in the Sahel are at risk of severe acute malnutrition and need life-saving support.
Abou Tall, our well-spoken and committed Country Representative here in Burkina Faso, explained what we did next. "The government here responded well to the nutrition crisis. We worked with them to help stock health posts and we trained thousands of front-line community health workers in how to diagnose and treat malnutrition. The Ministry of Health responded well and have modified and sped up some of their systems." Abou smiled. "So not only did we save many lives, we were able to make the health system stronger, too."
This is just a better way to work. When I was last here 4 years ago that shift was just beginning – instead of sending in foreigners in to help, we were providing the support so local health professionals could do their jobs even better. Not only do they understand their own culture better than outsiders do, but it also means the local people will be better prepared when the next dry season.
"We are getting close." Abou said. "It looks like this year there will be a good harvest – the rains have been good enough. Now if we can have enough food supplies to make it to the end of the year so that people don't have to start eating this harvest before it is abundant; if the rains don't turn into floods, and if there are no locusts, we will have done it. Together we will have averted a famine – and we'll have helped the Health Ministry grow stronger as we did it."
And that is yet another reason why I like Burkina Faso.
Categories:
Geographic Regions: