David's Field Blog: The Dadaab Refugee Camps
By David Morley
President and CEO, UNICEF Canada

Dadaab. It's the biggest refugee camp in the world – well, five camps, actually. About 450,000 refugees, almost all from Somalia, are located around the Kenyan crossroads town of Dadaab. Approximately 80% of the population is women and children. Many of the men are still in Somalia – they may be tending the last of the cattle, or caught up in the fighting.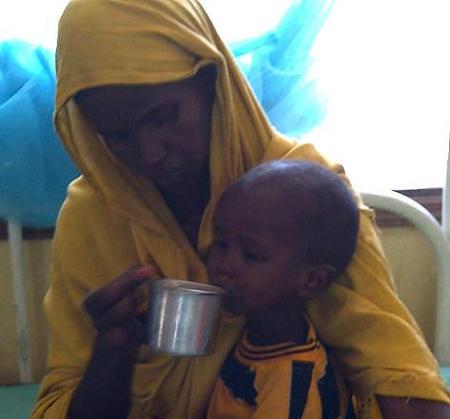 UNICEF provides therapeutic feeding at this centre in Dadaab.
It is filled with people like Narifa. She and her baby, Hawa, were admitted to a Nutrition Centre in Hagabera yesterday. They had fled Somalia on foot, were robbed by bandits, returned home for some more supplies and then, on their second attempt, made it to safety here in Kenya. In all, she walked for two weeks to get here. Her baby was so weak and tiny. Then I realized she wasn't a baby - she should be a toddler. This tired, emaciated little girl is two years old. She weighed six pounds at birth but now she is scarcely 13 pounds. What chance does this little one have?
Fortunately, in the immediate term, she has a very good chance. This Centre, run by International Rescue Committee, has saline drip, antibiotics, therapeutic food – all provided by UNICEF. We've equipped it well, just like we've equipped the MSF hospital closer to the border, and the fine Kenyan staff here know exactly what to do to nurse a malnourished child like Hawa back to health.
But what will come next? Once she is healthy, she'll probably get a chance to go to a Child-Friendly Space like the one I visited – supported by us and run by our partner Save the Children. Here, children attend a pre-school, learn some basic skills and get a chance to be children. Our counselor helps the children though play therapy. Some of these toddlers have seen their parents killed, and they all had harrowing journeys here. Lots of them talk about being attacked by snakes when they were sleeping in the bush at night.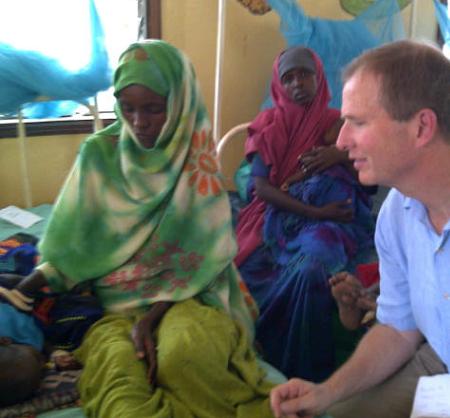 Meeting a courageous family at the centre.
At a reception centre up in IFO 2 Camp new arrivals are taught nutrition basics and then get food vouchers – enough to last a month. Mothers, their heads covered with brightly coloured cloth, line up quietly and then hurry off with their vouchers.
As in any community of this size, there is thriving commerce; downtown IFO has a mattress store, a supermarket, (well, that's what the sign claims), and the Mwingi Serena Butchery and HOTEL, as well as many tin kiosks where people use their cell phones to access bank accounts and get cash.

Human ingenuity, hope and entrepreneurship can be found everywhere.
And yet, 20 years after the Somalia crisis started, we are still involved in a relief effort. Of course we have stepped up our activities because of the famine; thanks to that scaled-up response and the work of our partners inside Somalia, the number of malnourished children is declining. However, this humanitarian effort needs to shift gears.
But how can it go on? We need the resources of the aid agencies now – we are all saving lives – but it is an expensive proposition. How long will the world keep paying?
If you are born in one of the Dadaab refugee camps, even though you are born on Kenyan soil, you are not a Kenyan citizen. I don't think you're Somali either. You are stateless. The Government of Kenya has enough on its plate already, so how can it assume responsibility for another half a million people? Health care is not Kenyan government health care; child welfare is run by NGOs, and only a quarter of the children go to school in NGO school programs. Education always gets less priority in an emergency response. But, after 20 years, how can we keep calling this an emergency?
We need to think about new ways to work here – efforts to strengthen the local economy and to build social services which are not dependent on outsiders. We need to strengthen community development efforts, so people can take more control over their own lives. But the Kenyan government has been leery. Better services might just bring even more refugees, and the Kenyan government has more than enough on its plate dealing with the drought.
I was about to find this out first-hand when I left the camps and went to the Kenyan village of Labisigale.
David Morley is sharing updates from Kenya
Read David's blog posts
What do higher food prices mean for the world's poor?
Follow @DMorleyUNICEF
Categories:
Geographic Regions: