David's Field Blog: The Depth of the Disaster
By David Morley
President and CEO, UNICEF Canada
We cannot fathom what the pain and suffering has been here. Everyone, absolutely everyone in Port-au-Prince was affected by the event. 17 Ministries were damaged or destroyed – and the government has 18 ministries. And, since the government work day ends at 3 pm, when the earthquake hit at 4:52 pm, it was many of the hardest working and most committed civil servants still at their desks who were killed.
Abraham, our Creole-French-English translator, lived in a tent for a month. Other family members were afraid to move home for 8 months. His uncle was killed. "He had a photo shop and the building came down on him," said Abraham. "We went to recover his body, but we couldn't – there were just too many different bodies, all smashed up and mixed up together."
The young volunteers leading the Child Friendly Space we were at today – they live in the tent city at Petionville Club – but their gentle way with the children and the serious way they take their leadership, well, you'd never guess they'd been homeless for almost two years.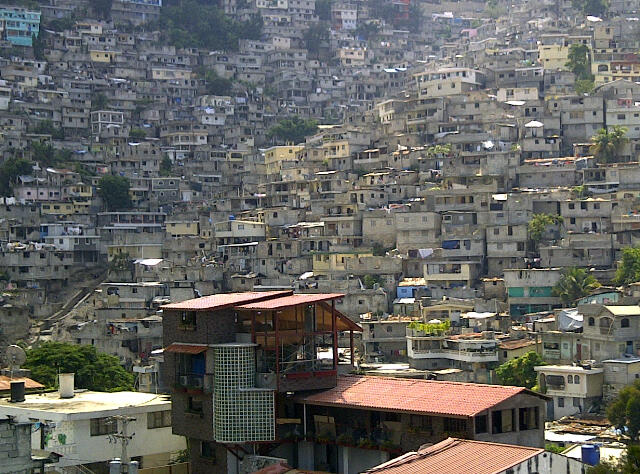 A view of Petionville.
At the public school we visited today we noticed a chicken in the playground. Then Meg saw a turkey, too, and asked why. Was it a school project? "No," replied the school principal, who was elegantly dressed for our visit. "Those are mine. I lost my house, and so I live in the school and those birds are mine."
Half the rubble has been removed. For people who say that they are moving too slowly, I say that, without all the technology and machinery at the disposal of a wealthy country, the rubble is being removed at the same pace the rubble of the World Trade Centre was cleared away. There is just a lot more of it here.
When I came here a few weeks after the earthquake, our Security Manager said Port-au-Prince reminded him of Baghdad right after the fall of Saddam Hussein – quiet calm before it became engulfed by violence. Even though the prison collapsed and many people escaped, we have not reached that level of violence. Although, I was very sad to see that the town of Belair – with a PTA that reclaimed their community just before the earthquake – seems to have become a risky zone for foreigners once again.
I can see a real difference in the streets. I don't mean that Port-au-Prince is as orderly and clean as a Canadian city. Far from it. But in its chaos and dirt and flooded streets, (as there was a torrential downpour the other night), it is returning to what it was. Now we have to help the people of Haiti make it even better.
Categories:
Geographic Regions: