David's Field Blog: The End of an Era
By David Morley
President and CEO, UNICEF Canada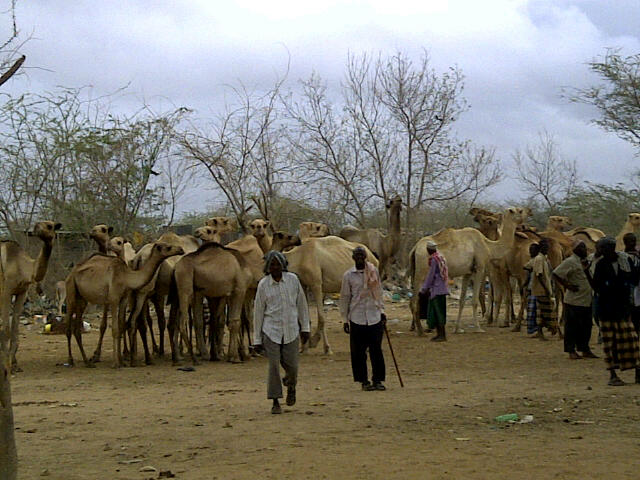 Pastoralists, or herders, are climate change refugees.
It is flat, dusty, and very dry here in Kenya's north-east. Sand blows everywhere. But the acacia trees have withstood the drought and huge turkey vultures sit in them, waiting for something to scavenge.
"Those birds bring blessings," Regina, our nutrition specialist, tells me. I'm glad – there are lots of them and this place needs all the good luck it can get.
The land is flat. It seems to me the largest hills are the towers created by the termites that rise up out of the red soil like miniature medieval castles.
"Snakes like to hide in those," Regina says. Not so lucky there.
The drought that has caused the famine in Somalia has not left this part of Kenya close to the border untouched. In the village of Labisigale, about 20 kilometres from Dadaab, the water ran out. UNICEF drilled for water in the school yard. At 94 metres, 10 storeys underground, the drill bit broke. At 148 metres a second bit broke. But it was third time lucky when - in a corner of the yard at 179 metres below ground - we hit water. Next week we will bring in a pump so the village can have water once again.
But it costs money to buy the fuel. The village water committee will have to charge enough to buy fuel, and that will be very hard for the nomadic herders who have just moved to the village.
On the edge of the village we crowded into a maniata, a small circular hut made of skins and sticks with occasional bits of plastic. The nomads can pack up these remarkable portable homes and move them around to follow their cattle as they move from pasture to pasture. Raha and her husband may live in a portable house, but they aren't moving any more. They used to have 100 cows and moved from watering hole to water hole.
"But we haven't seen real rain for three years," said Raha. "Now all our cows are dead. We came here because we have some relatives and we heard there might be water."
"What if the rains come back?" I asked.
"We will stay. We don't have cattle anymore."
"But how will you live?"
Raha's husband spoke up. "I got a job working for the NGOs putting up tents in the refugee camp," he said. "And since I'm Kenyan, my children can go to school. Two of them are in the village school already."
The drought has swollen the population of Labisigale from 150 to 700 families. But how many families can this parched land support? And how will proud cattle herders suddenly stop moving – even if their children can go to school? And even if UNHCR receives the 45,000 new tents they need for all the new arrivals, that is not a permanent solution.
Pastoralists, or cattle herders, used to make a living here. Now they are climate change refugees. Even if it rains, they've lost too much. Even if it rains, their way of life has suddenly and drastically changed forever.
Yes, there children will go to school and that is a silver lining. The school has a smart energetic director who is committed to making life better for the children in his community. But even for an optimist like me, who believes in the power of education to change the world for good, I cannot help but question if that is enough of an upside for the difficult transition facing these once proud herders, now sedentary here in Labisigale.
David Morley is sharing updates from Kenya
Read David's blog posts:
What do higher food prices mean for the world's poor?
Follow @DMorleyUNICEF
Categories:
Geographic Regions: