Day 1 in South Sudan: Tongping
Juba, South Sudan - When the violence erupted less than two weeks before Christmas, and mobs of armed thugs began attacking their neighbourhoods, people fled to the UN Compound near the airport. The Commander did the only humane thing he could – he opened the doors and let them in. Soon every nook and cranny had someone living in it. The peacekeepers of the UN Mission to South Sudan (UNMISS) still had their barracks, but their training grounds and equipment areas were overtaken by nearly 30,000 destitute people. This is Tongping – and when the UN Commander opened those gates he saved thousands of lives.
But the lives had been uprooted all the same. People lost their houses and families were separated. Many people had been travelling to get ready for Christmas, and so some families weren't together. Peter[1] was one of them. He had been here in Juba and he couldn't leave, and his son Michael was caught in another town, Bentiu, which had also seen fighting. "It was so painful for me. I didn't know what had become of my son, who was looking after him. Was he alive?"
Reuniting families and finding unaccompanied children is a key part of our work. Using our network we found Peter's son. It was impossible to get him out overland – the insecurity on the roads and the bad weather were too much to overcome. So when we had planes taking supplies to Bentiu we were able to meet up with Joseph and bring him here where he was reunited with his father.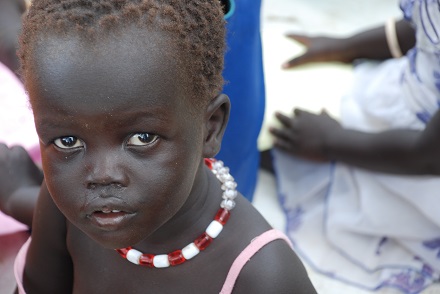 Every child deserves to feel safe and protected with their family.
We are the main provider of supplies of children here. We are providing all of the Plumpy'nut, life-saving therapeutic food, that comes into the country. All the vaccines which have been used in South Sudan have been provided by us and mass vaccination campaigns reached 2 million children this spring. But it still isn't enough – we only have one third of the funding we need to carry out our programs – and preliminary indications are that the humanitarian crisis here is only going to get worse.
Unless we can scale up our response, we fear that 50,000 children may die before the end of the year.
Now, I don't want to be overwhelmed with pessimism – but unless there is substantial outside help coupled with an end to the hostilities, the pessimists will be right. But there are some signs of hope. We have helped a maternity clinic get going and provide all the support to another MSF clinic too. Tongping is down to 14,000 residents now, and although it is still too crowded and doesn't have enough facilities people try to find the semblance of normal life.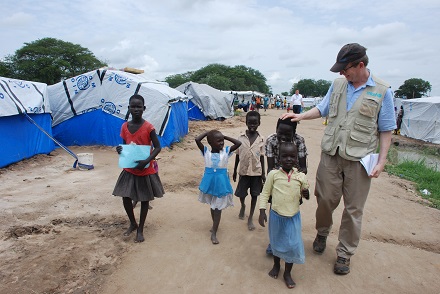 Next week South Sudan celebrates its third anniversary of independence from Sudan, which came after a long and horrific war and left this as one of the poorest places in the world. Less than half the children were in school before the crisis – even fewer go now. An adolescent girl in South Sudan is more likely to die in childbirth than to graduate from secondary school – and if that isn't a sign of a desperately poor country then I don't know what is. And tomorrow we head up north to where the fighting has been even worse.
Read more from David:
---
[1] Some names have been changed
Categories:
Geographic Regions: