Day 2 in South Sudan: Malakal
The road from Juba to Malakal is long, and frequently impassable due to rain or fighting, so we went up on a UN plane which was delivering flak jackets and other supplies to our staff there.
In the little 15-seater our Russian pilots give us the regular safety instructions and then we are up over the flat green ground of South Sudan. After an hour or so, as we approach Malakal the green plain below is dotted with burned-out villages - remnants from the fighting earlier this year. Malakal town itself is almost deserted and occupied by soldiers. Our office and warehouse there were looted in the fighting. "Right now things are calm," Robert, our Nutrition Specialist tells us. "But it is unpredictable."
We head off to the POC – Protection of Civilians settlement in the UN Peacekepers Compound. And how can I describe it? Tents are jammed in together, families living cheek by jowl. Mud is everywhere. When it is wet it sucks at your shoes (if you have shoes) and when it dries it is as hard as concrete – until the next time it rains when everything gets wet and muddy again. Stagnant water is everywhere –even inside many tents.
This is like the first circle of Dante's Inferno.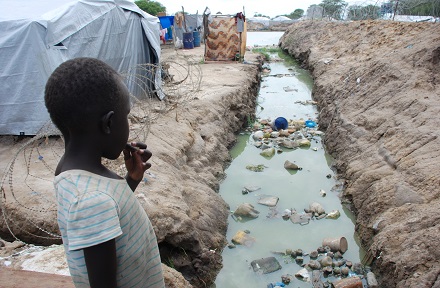 But still, people are here because to be outside would be worse. Their homes have been destroyed or occupied by soldiers. Many men have been killed and women have been raped. This is the time when they want to be planting their crops, they need to plant their crops, but the threat of violence outside is just too great.
Malnutrition is on the rise and is above global emergency levels – this is why we are raising the alarm that unless more aid gets here 50,000 children will die in South Sudan before the end of the year. That's 211 children a day. One child every five minutes will die unless we can get more food, Plumpy'nut, and medicine here, and unless the warriors decide they are willing to work for peace.
Gender based violence is real and constant. Women who go into Malakal town risk rape, and many have suffered unspeakable harm. But speaking helps, and so we have been supporting women's self-help groups who can come together and share their experiences. Rachel is the leader of one of these groups.
"When the violence first broke out we took shelter in churches and the teaching hospital. We thought we would be safe there. But as the fighting continued even those places were not safe. Many men were killed and so in February we came here, the UN let us in and since then people have been here. The living conditions are very hard. The land is not meant for people, people are living in water, but at least we are protected here."
She went on. "It is difficult. We are so close to Malakal, but our houses have been looted. Look at me. I am a school principal and all around I see that the primary school children have lost their school year."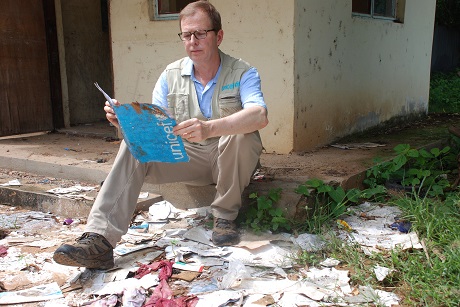 Grace, another member of the group, added. "If there was peace I would go home. I would plant my crops and my children would eat the harvest. But I have lost family members and I cannot go home while there is still killing."
I was speechless. What could I say to such agony and loss? Finally I asked Rachel. "How do you do this? You are leading this group, how do you keep going?" She got tears in her eyes. "My faith keeps me going. And we have no other choice."
Jonathan Veitch, our Country Rep here, said softly to Rachel, "We will be here and support these services for as long as we can. When the new PoC opens we will be able to help start schools and we will keep on supporting the clinics, too." But once we were outside the tent his anger and passion came out. "We need more money. We need more people. We need more supplies. The acute malnutrition rate is too high – but the real problem is the general food distribution. We can't just wait for more children to get severe malnutrition – they all need food now. Because if cholera comes up here too, when so many children are malnourished then far too many will die."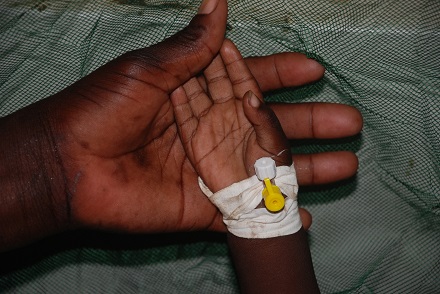 This 5 year old is being treated for cholera.
Some things may be improving. There are signs of community life in the little market that is on the main road of the PoC. There are two bookshops, some butchers, charcoal shops and stalls where you can charge your cell phones. And the PoC is expanding, hopefully to an area which is drier and which provides a bit more space.
But still, people are living here, in mud and sewage, with no options in sight. Any sensible person would have left this place. But they haven't. Because what is outside the walls of the Camp is far worse than what is inside.
And so we must continue to do the best we can to help these people. But don't forget, these are the lucky ones who have some level of protection.
Will we have to wait for there to be a famine before the world decides to help?
Read more from David:
Help save lives:
Categories:
Geographic Regions: