Day 3 in South Sudan: Tom, Grace and William
Bor is a more hopeful place than Malakal. It's about 130 kilometres north of Juba and about 40,000 people are back in the city now, and the PoC under UN protection only has about 4,000 people in it, and it has good drainage now too.
But of course, it is all relative. Roughly 200,000 people used to live here, and after the violence December the town was as deserted as Malakal is today. The market was burned down, houses were looted, and patients who couldn't flee the hospital were killed in their beds.
Our own office was looted, and our Communications for Development Specialist, Jacob, a man who grew up in Bor, stood in his ruined building and, with anguish on his face, showed me where his desk had been. People fled across the Nile to the village of Minkeman, and they went farther afield too, to Uganda, to Kenya.
"The violence has set things back here by decades", said Tom White, who is coordinating our relief efforts here. (It was good to see Ton again. We'd first met 13 o3 14 years ago at the end of the war in Sierra Leone when we were both working with MSF). "But we're trying to get things back to normal. Every day about 500 people are moving back to Bor. The hospital is open – we're supplying it so that some MSF doctors can work there – four schools have re-opened and we have materials here for ten more. But it's not as calm as it looks. If someone from the wrong tribe were to turn up here all hell would break loose again."
But with the schools open students are coming back. Grace is a teenager at Bor A School. When the fighting started she fled with her mother, first to the countryside, then to islands in the middle of the Nile and finally all the way across the river to Minkeman. Minkeman was a village, but once the fighting started it became a city of 100,000 people who had fled from Bor.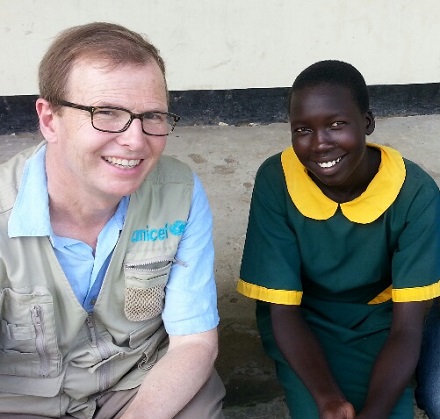 Grace's grandmother remembered the last time this had happened, in 1991, like it was yesterday, and she fled to Uganda. But once things grew calmer in Bor, Grace's grandmother came back, and when the schools reopened, Grace came across the river to live with her and finish 8th Form.
"I really wanted to be at school. We don't always have enough to eat, but I can study. I want to be a teacher, because if you are educated, then life is better. Too many fathers tell their daughters it is better to get married than to go to school. I don't think so. I think education brings peace, and that is what I want to do."
Certainly the low levels of education here have not brought peace, and it is all too obvious here in Bor. Even as the town stars to come back to life, 4,000 people are living in the UN Compound on the edge of town. It is surrounded by barbed wire and no-one goes out – not because they are prisoners, but because they would probably get killed if they did.
This Camp is in much better shape than the one in Malakal, and we are welcomed by a host of singing children and a community organizing committee shows us around. Our teams built new water system, the child friendly space, the drainage system, the school. We introduced ourselves and chatted as we walked. A tall South Sudanese man in a yellow robe said, "Welcome. I am William, I am a Canadian citizen."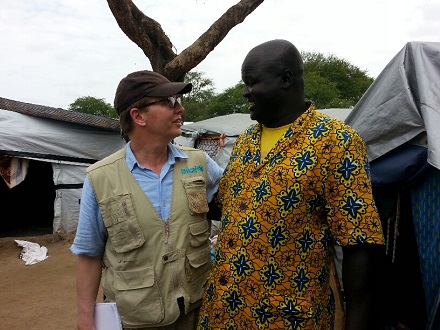 William and I.
"So am I," I replied, and we fell into a discussion. He came to Canada as a refugee during the war of independence from Sudan. He has four grown daughters, and his wife has a degree in Public Administration. "We lived in Toronto and Windsor and finally went to Edmonton where I worked in a Remax office." It felt surreal, in the midst of a camp surrounded by UN Peacekeepers and barbed wire, to be talking about a real estate office in Alberta. And then, without missing a beat William pointed at a UN watchtower. "That's where the gang from Bor breached the wire a couple of months ago and killed almost fifty people before they were stopped." That wasn't surreal, that was the ongoing tragedy here in South Sudan.
After fighting and gaining their independence from Sudan just three years ago, the world's newest country has slipped back into war. In the bush north of Bor the government and opposition forces prowl unchecked. And here in Bor, against all odds, UNICEF continues to try and staunch these wounds and do everything possible to save children's lives. I feel privileged to be here with them.
Read more from David:
Help save lives:
Categories:
Geographic Regions: