Day 4 in South Sudan: A tale of two children
How is it possible?
How is it possible in a world of plenty like ours, where there is more than enough food for everyone on the planet, how is it possible that there are children like Mary and Moses?
This morning we visited the Al Sabah children's hospital in Juba. This is the best children's hospital in the country, and UNICEF has helped refurbish it, put a good water and sanitation system in place, and provide medicine and therapeutic food. And the children here just break my heart.
Mary is three year old – the same age as her country. Her mother, Agnes, got worried last week when her arms and legs started swelling. She tried a local remedy, but when that didn't work she brought Mary here to the hospital.
Agnes sells vegetables in the market; her husband sells blocks for construction. But the conflict here has weakened an already fragile economy, and they don't always have enough to eat, so Mary was already malnourished. By the time they got here on Monday she had diarrhea too.
I thought Mary was sickly and weak and then I glanced over at the bed next to her and saw Moses. What a tiny little thing – his arms and legs weren't much thicker than my thumb and when I put my hand on his chest I could feel every single rib. His mother, Mary Joanne, is a farmer; his father is dead.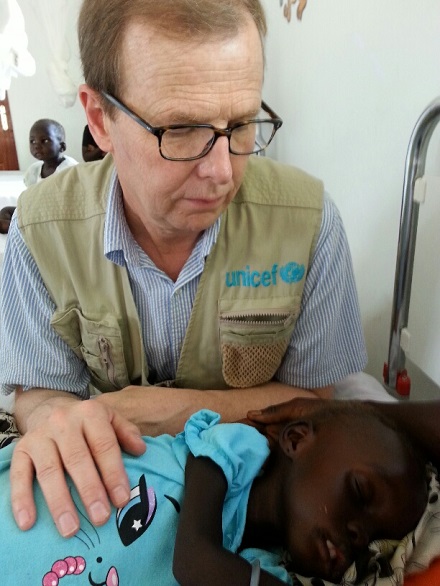 "Moses used to run and play," Mary Joanne said. I can scarcely believe it – the little boy can hardly move and I cannot see any muscle on his tiny frame. Moses is the expression "skin and bones" made real, right here before my eyes.
"He came in two days ago," said Dr. Emmanuel, the Medical Director of the Hospital. "If we can stabilize him within three days he may have a chance." He may have a chance. The Executive Director of the hospital told us that one in every ten children admitted here will die – and we have to remember that these are the lucky ones who are receiving care.
This is an outrage.
Mary and Moses are twice as old as my granddaughter and they are half her size. I want to bring the politicians here and say "this is what happens when you can't make peace," but I doubt it would make any difference.
We know how to save every one of these children. Malnutrition is going through the roof here and we are staring famine in the face. We've already distributed 7 million sachets of Plumpy'nut ("Plumpy'Nut is magic," says James Eldridge, from UNICEF HQ who is part of the emergency surge team here. "In three days it makes children healthy again.") We're providing therapeutic food and medicine. World Food Program is providing some general food since the conflict has interfered with planting and harvesting. But still it is not enough.
We need more money so we can help more children – it is as simple as that.
Mary and Moses are at the brink of death for one reason only. They are poor. It's not that we don't know how to help them, it's just that they're poor. Maybe that's the worst disease of all.
Read more from David:
Help save lives:
Categories:
Geographic Regions: