Day 5 in South Sudan: Heroes
Jonathan Veitch is a smart and funny Englishman who is quick to smile. He's worked in some of the world's worst crises and became the UNICEF Representative in South Sudan when the crisis here was declared a "Level 3" emergency. That's our highest level emergency and there are four of them in the world right now: Syria, the Central African Republic, Iraq and here in South Sudan.
Jonathan's experience, energy and leadership is making a real difference to our response. "We can either wait for a famine to come, or we can try to do something about it," he says. "I'd rather do something about it." Our Rapid Response Missions are a way to do something for the poorest and hardest to reach people in South Sudan.
Unless treatment is scaled up immediately, up to 50,000 children under 5 are likely to die from malnutrition.
1.5 million South Sudanese have fled their homes. 400,000 are refugees in neighbouring countries, 100,000 are in the Protection of Civilian camps like the ones in Tongping, Malakal and Bor, and a further 1 million people are dispersed throughout the conflict areas of South Sudan.
Getting help out to the countryside is hard. Not only because there are armed groups, but because the rainy season is here and getting supplies out is almost impossible. "We sent a convoy of 12 trucks up to Bentiu. It took ten days and when they were almost there the roads turned into quagmires and the convoy had to turn around. World Food Program has tried sending barges of food down the Nile, but the last one was attacked."
Our nutrition teams in the camps are constantly screening for malnourished children. If they find that there is an increase in children from a particular area, or we learn from families coming into the camp that a certain district is in trouble, then we plan a Rapid Response Mission.
A Mission has about 10 people: specialists in nutrition, health, water and sanitation, child protection and education along with an unarmed security expert. They are flown into the bush and set up camp. They bring medical supplies with them, and once they've established a nutrition clinic more supplies are flown in or dropped. There's food too, supplied by the World Food Program and seeds and farm utensils from the Food and Agriculture Organization.
We treat malnourished children, distribute education materials to local teachers, hand out water purification tablets and work with local groups on issues of health, hygiene and child protection. After a week or 10 days we leave again, with emergency supplies and in the hands of villagers and community groups.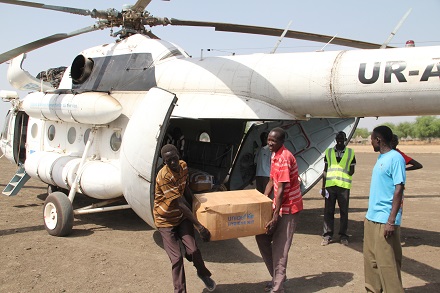 Air drops in Juba.
The results have been impressive. Since March these teams have done more than 60,000 vaccinations, provided 50,000 people with clean water, helped reunite children separated from their families and set up temporary learning centres. These Missions aren't easy to run, but for the people living hand-to-mouth in the war-torn pockets of the country, they are important lifelines, and a reminder that they have not been forgotten by the outside world.
And they remind me of something important. More people want to build up than to destroy. Of course, it is easier to destroy, and it doesn't take as many people to destroy, but far more people want to do good and make things better. That is why there are so many heroes here in the midst of the horror of South Sudan.
Jonathan and the great team in our office in Juba and in our field offices in Bor, Malakal, Bentiu and around the country. There's Jennifer, the midwife in Tongping who has delivered 400 babies; Jacob, our specialist in Bor who had his office destroyed but who keeps on working. There are the countless nurses and doctors and teachers and parents who still try to create a sense of a normal life for their children and community.
But most of all, when I think of heroes I think of Grace, the girl who dared to return to Bor so she could go back to school. "If you are educated, life is better. I think education brings peace." Her dream of education and peace is the wish for her country – turning 3 years old next week.
For my part, I just hope we can play some part in making that dream come true.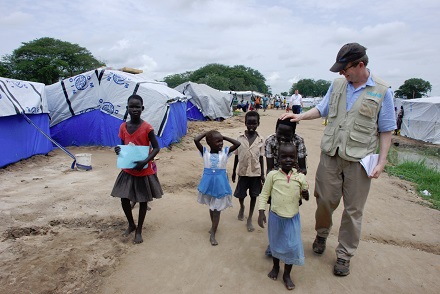 Read more from David:
Help save lives:
Categories:
Geographic Regions: