Ebola: Back to school through the radio waves
By Romero Yolanda
Freetown, Sierra Leone - At the end of a labyrinth of small streets in Freetown's New England neighbourhood lies the home of 13-year-old Uleymatu Conteh. Normally this morning she would have dodged the OKADA motorbike taxis and the market women selling fruits, sweets and bread on his way to school. But instead, she is sitting on the floor, listening to the radio, and taking notes leaned against a wooden stool.

She's listening to a science lesson about non-living and living things, helped on by older relative, Moalem Siseh, 17.

School may be out of the question because of the current Ebola crisis, but the Ministry of Education with support from UNICEF and other partners is trying to make sure learning continues, through an innovative national radio education programme launched this week.

"The aim is to reach 1.8 million children that have no access to the school with quality education opportunities", says Uche Ezirim, Education Manager at UNICEF. The programme includes psychosocial support and life skills to cope with the impact of the Ebola crisis.

With a net attendance ratio of the 70% for primary school, and an average 36% for secondary (male, female), the radio education programme is a useful stop-gap measure for Serra Leonean students.

Not far away we meet Gomoi Sandy, 18, with his mobile telephone seemingly stuck to his ear. It's a common sight in a country where according to the International Telecommunication Union (ITU) mobile telephony is the second most accessed media or communication device in Sierra Leone, behind radio. Gomoi isn't calling his friends, but rather studying a science lesson. Like Uleymatu, he's listening to an education programme – one of several each day broadcast on 41 participating radio stations in Sierra Leone. "Electricity has gone", he says "and through the mobile telephone it's the only way to listen to the radio education emission."

Normally Gomoi would be attending Senior Secondary school, but he's listening to the programme even if it targets students at a lower level.

"The highest level, senior secondary, is aired from 3pm to 4pm, from Monday to Thursday," Nice Mest from the Ministry of Education, tells Gomoi. A three day sensitization campaign was aired the previous week in Sierra Leone, but there is still work to do to get the word out there about the different types of programmes.

Gomoi feels happy to have a tool to learn while he misses out on regular schooling. "For now I can manage with the radio emissions," says Gomoi, "but I would like to come back to the school to meet my friends." The Government foresees to reopen schools by January if the situation allows.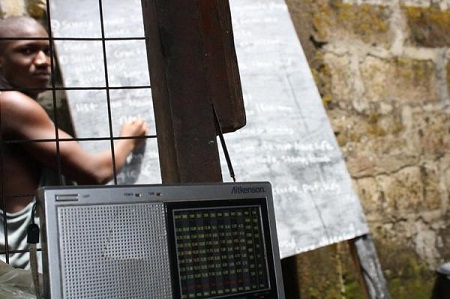 Moalem Siseh, 17 is copying in a blackboard the content of the education science programme to help teaching her younger relative, 13. The aim of the programme is to reach 1.8 million children that have no access to education due to Ebola outbreak with quality education opportunities.
© UNICEF Sierra Leone/2014/Romero
Not far away we meet Mohamed Barrie, 14. He was at secondary school when the Ebola outbreak started. He also now uses his mobile phone to learn. "In Freetown we don't have electricity constantly, and it's difficult to get batteries" says one of Mohamed's neighbours.

"I listened to the first emission yesterday", says Mohamed, "I would like the emissions to be broadcast on the television."

"We foresee this possibility in a short time," replies Nice Mest from the Ministry of Education.

Awaiting such a television service, Mohamed says he loves the idea of the radio education programme: "Education is important to gain success in life," the 14 year old tells us.

Mohamed loved the launching session, about social studies, but he was less enthusiastic about science. He says robotics is his thing: "I'd like to improve on technology" he says as the day's radio lesson finishes and he switches off his phone.
You can support our work by donating at www.unicef.ca/ebola.
Categories:
Geographic Regions: