ECD Kits Provide Playful Learning
Experts tell us that early learning is critical to a child's long-term health and well-being.
That's why UNICEF recently created a first-of-its-kind Early Childhood Development (ECD) Kit devoted to encouraging continued development and social interaction among children aged 0-6 during and after a crisis.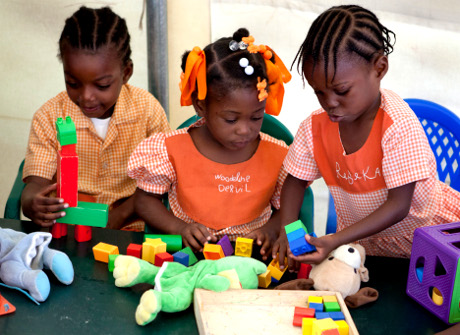 Children in Haiti play with items found in their UNICEF ECD kit. © UNICEF/HTIA2011-00371/Dormino
Child survivors of weather-related disasters and children caught in conflict often end up in refugee camps, living in close quarters with few places to play. Since it is essential for children to resume normal activities without delay, even in an acute phase of an emergency, UNICEF sets up centres for these children, and the ECD Kit provides play things that they can use to learn.
Each of the kits prepared by UNICEF contains 37 different items to help create a safe learning environment for up to 50 children. Each item was selected to help develop skills for thinking, speaking and feeling, and to promote interaction between peers and with caregivers. Before it was launched, the kit was piloted in seven countries in crisis or post-crisis transition, including Chad, Iraq and Maldives.
"The materials—dominos, colouring pencils, construction blocks, hand puppets, puzzle blocks and memory games—also seem to give children a sense of property, something that they own," said Deputy Director of Emergency Programs Dermot Carty. "Our experience in the field tells us that educational kits act as magnets to children."
The ECD Kits piggyback on the huge success of UNICEF's School-in-a-Box kits (over 600,000 now delivered worldwide) as well as our Recreation Kits that provide sporting equipment and resources to ensure physical activity and play.
UNICEF has been able to supply these kits to many of the more than 800 emergencies it has responded to in the past three years alone and, thanks to the generosity of our donors, children worldwide will continue to benefit from these innovative resources.
Survival Gifts
Learn and Play!

Help children grow brighter, stronger and more imaginative. They may become the leaders of change for tomorrow! This bundle is a true pleasure to give and pure joy for kids to receive. Contains: 1 Soccer Ball, 4 Storybooks, 4 School Supply Sets. ($40)
Categories:
Geographic Regions: