Educating Children on the Move
Eight-year-old Peter and his brother, seven-year-old Emanuel, had never been to school. Instead they tended their father's goats in a remote village in Turkana County, northwestern Kenya, unaware that other children were in class receiving an education.
UNICEF is spearheading a program to help children from remote nomadic communities without any access to education attend school for the first time.
The Rapid School Readiness Initiative is how Peter and Emanuel had a chance to go to school – and are now among the brightest students in their class.
"I am happy in school because I like studying," says Emanuel.
For many other children in Turkana, education remains a distant dream. High poverty levels, harsh terrain and rough weather conditions mean schools are few and far between.
In 2009 the Ministry of Education reported 81 percent of children in Turkana were out of school.
"This initiative is important because we are finally able to reach the unreached areas of Turkana," says UNICEF Education Officer Joyce Emanikor.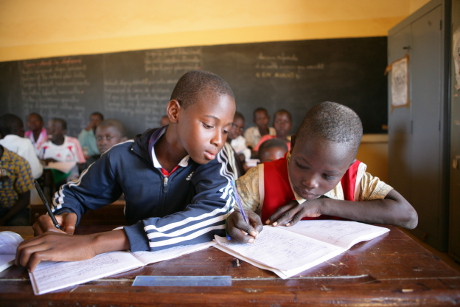 © UNICEF/NIGB2010-0022/Pirozzi
The initiative has seen several makeshift centres grow into formal child-friendly schools complete with boarding facilities. "Even as the parents migrate," Ms. Emanikor says, "the children can remain in school to learn."
For Peter and Emanuel, school means a brighter future than they had ever envisioned. Peter would like to be a teacher someday, while Emanuel is studying hard to be a doctor.
Their father, Elim Nyiro, is confident the investment in their education will provide a sustainable future for his family.
"I expect them to study so that they can live a better life. Their education can lift our family out of poverty," he says.
At UNICEF we believe that every child, no matter how isolated or remote their community, has the right to quality education. We will do whatever it takes to reach even the most distant family. Because no child is too far.
Adapted from material originally written by Daisy Serem.
Categories:
Geographic Regions: