Escaping Boko Haram in Nigeria
It started as an attack on girls. Boko Haram had ruthlessly abducted 276 girls from their schools and families, prompting international outrage.
An estimated 800,000 children have been forced to flee their homes as a result of the conflict in northeast Nigeria between Boko Haram, military forces and civilian self-defence groups – according to a new UNICEF report titled Missing Childhoods.
"Children are bearing the brunt of this crisis, experiencing unimaginable violence and horrors no child should ever be subjected to," said David Morley, UNICEF Canada President and CEO. "Most disturbingly, children and young people have been very deliberately put in the crosshairs—with targeted attacks on schools, mass abductions and even reports of children being forced to carry bombs strapped to their bodies for public detonation. These grave violations of children's rights must be stopped immediately."
>> Watch David Morley speak out on CTV National.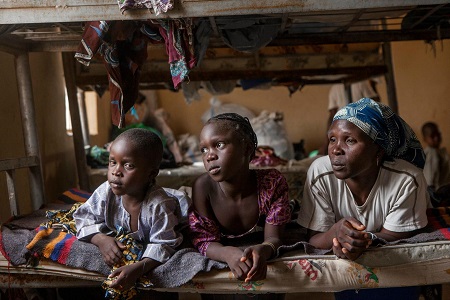 Rose (right) watched while members of Boko Haram attacked her village and began killing the men who lived there, including her husband. As she fled into the bush with her nine children, she caught sight of her home being set ablaze. "We didn't bring anything with us. We just ran," she said. Her 2-year-old son passed away while they were in hiding. "He died from the stress," Rose explained. Now she and her children are living in a camp for internally displaced people in Yola, Adamawa State, Nigeria. Even though she knows she has lost her home and cattle, Rose longs to go home. "I want to go home and harvest so we can eat."
An attack on education
Students and teachers have been deliberately targeted – with more than 300 schools damaged or destroyed and at least 196 teachers and 314 schoolchildren killed by the end of 2014.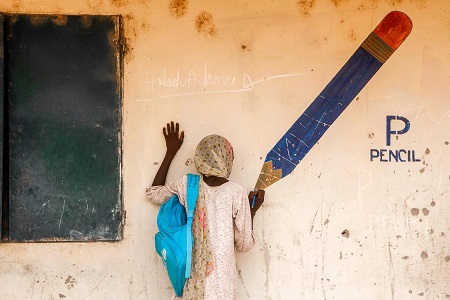 When members of Boko Haram attacked 13-year-old Aisha's hometown in Borno State, they killed her father and abducted her mother. She fled with an older sister to the Damare camp for internally displaced people in Yola, where she goes to school and receives counselling. "I enjoy the school here," she said, but I still want to go back to my village."
An attack on peace
Children targets and weapons of war Since 2009, when the Boko Haram group made a marked turn towards violence, at least 15,000 people have been killed, with more than 7300 killed in 2014 alone. In recent months, Boko Haram attacks have increased in frequency and brutality, killing more than 1,000 civilians since the beginning of the year. Children have become deliberate targets, often subjected to extreme violence – from sexual abuse and forced marriage to kidnappings and brutal killings. Children have also become weapons, made to fight alongside armed groups and at times used as human bombs, including a case of young girl sent to her death with a bomb strapped to her chest in Maiduguri.
Children are being used within the ranks of Boko Haram – as combatants, cooks, porters and look-outs.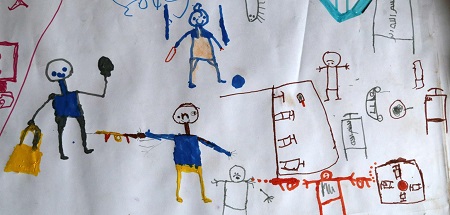 In March 2015, Umar, a child refugee in Chad fleeing the conflict affecting North-East Nigeria, drew this drawing in a UNICEF supported Child Friendly Space in Dar es Salaam Refugee camp in the Bagassola area in the Lake Region of Chad.Seen in the drawing are children going to school and several classrooms. Assailants are shooting at the children and schools.
An attack on childhood
"The abduction of more than 200 girls in Chibok is only one of endless tragedies being replicated on an epic scale across Nigeria and the region," says Manuel Fontaine, UNICEF Regional Director for West and Central Africa. "Scores of girls and boys have gone missing in Nigeria – abducted, recruited by armed groups, attacked, used as weapons, or forced to flee violence. They have the right to get their childhoods back."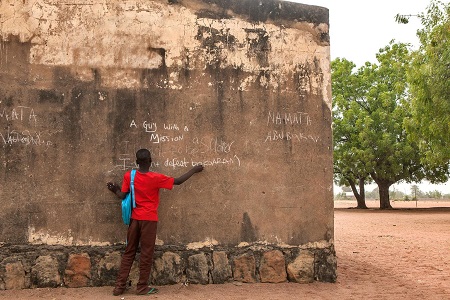 "I ran away, alone, when I saw people in my community being slayed; this is what scared me most – not the shooting," said a15-year-old boy who sought refuge in Chad. "I am worried about my parents, I was told my family was killed, but I don't think that they all died; I think some of them may still be alive."
Protecting the most vulnerable
UNICEF has stepped up its humanitarian response to the crisis. Over the past six months, UNICEF has provided over 60,000 children affected by the conflict in Nigeria, Niger, Cameroon and Chad with counseling and psychosocial support to help them ease the pain of their memories, reduce stress and cope with emotional distress.
UNICEF is also working with partners to provide safe water and life-saving health services, restore access to education by creating temporary learning spaces and deliver therapeutic treatment to malnourished children.
Categories:
Geographic Regions: